Quinag Rainbow, Assynt, Sutherland Prints
Beautiful photos of England, Scotland, and Wales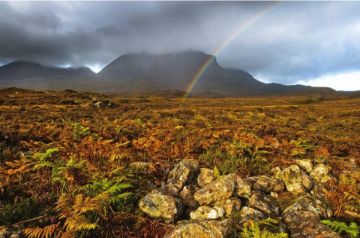 The Story Behind the Image - Quinag Rainbow, Assynt, Sutherland
Quinag is a striking mountain peak near the village of Unapool in the Assynt region of Sutherland, Scottish Highlands.
I was staying for the week at a holiday cottage in Unapool, and I kept driving past Quinag on my way to and from my cottage.
I decided to photograph the mountain peak but had trouble finding a time of day that offered good light on the mountain.
On this occasion, I was simply on my way home to my cottage after a day of sightseeing when I saw sunlight break through the clouds. I stopped at a handy layby and hiked across the fields to find a good vantage point.
Unfortunately, as I arrived the sun turned to cloud and with the suddenness that only the Highlands seems to offer it started to rain.
I wondered whether I should turn back, but just as quickly as it began, the rain clouds parted and a rainbow appeared against a backdrop of dark clouds shrouding the peak of Quinag.
Sunlight broke through the clouds and flooded the fields leading to the mountain. What an amazing contrast!
---
Britain Express UK Image Shop
Our online shop offers canvas prints, framed prints, metal prints, acrylic prints, posters, iPhone cases, Galaxy cases, and greeting cards of UK scenes, specialising in historic sites and traditional locations around England, Scotland and Wales.
We've chosen Fine Art America to host our shop. FAA is the largest worldwide print-on-demand service and offers a wide variety of printed image products from 14 fulfilment centres in 5 different countries.
You can order in a wide variety of currencies (euros, Japenese yen, American, Canadian and Australian dollars), and products ship in 2-3 business days.