Bedruthan Steps Prints
Beautiful photos of England, Scotland, and Wales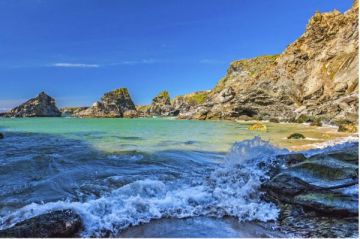 The Story Behind the Image - Bedruthan Steps

Waves break on the beach at the Bedruthan Steps in Cornwall, just north of Newquay. The Bedruthan 'Steps' are a spectacular series of rock stacks stretching across Bedruthan Beach and have drawn tourists since the Victorian period.
I came here on a family trip with my wife and daughter on a sunny day in spring. We parked at the National Trust parking area on the coast road and took the wonderful clifftop walk along the coast to Bedrutham Bay.
Here a set of steep stairs go down to a very small beach at the base of the cliffs. The stairs are relatively steep, but what makes them a challenge is that they are wet from sea spray.

The tide was covering much of the beach so I didn't dare to try getting right down onto the sand. Instead, I knelt on the bottom step while I waited, hoping to get a photo of waves breaking on the beach.
What I hadn't anticipated was that the waves would simultaneously break on the step where I was crouching. I got the photo, but I also got soaked! All in the name of art.
---
Britain Express UK Image Shop
Our online shop offers canvas prints, framed prints, metal prints, acrylic prints, posters, iPhone cases, Galaxy cases, and greeting cards of UK scenes, specialising in historic sites and traditional locations around England, Scotland and Wales.
We've chosen Fine Art America to host our shop. FAA is the largest worldwide print-on-demand service and offers a wide variety of printed image products from 14 fulfilment centres in 5 different countries.
You can order in a wide variety of currencies (euros, Japenese yen, American, Canadian and Australian dollars), and products ship in 2-3 business days.