St Nectans Glen Prints
Beautiful photos of England, Scotland, and Wales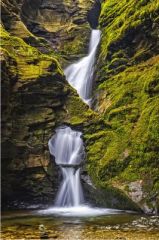 The Story Behind the Image - St Nectan's Glen Waterfall
I can't think of a more beautiful location in Cornwall, or one more steeped in history and a certain 'something'; a sense of mystery and timelessness, than St Nectan's Glen, near Trethevy. What an incredible location.
St Nectan's Glen is a deeply wooden glen running inland for several miles from the coast at Rocky Valley. At the head of the glen is a waterfall known as St Nectan's Kieve, though sometimes the name is applied to the entire glen and sometimes the name 'glen' is [incorrectly] applied to the waterfall as well.
The waterfall is amazing. Over time the force of the water has eroded a pathway through the solid rock, leaving an arch of rock that resembles a flying buttress on a medieval church.
The water tumbles down a steep cliff face between moss-covered rocks and out through a circular hole in the rock before ending up in a shallow pool at the base of the cliffs.
St Nectan's Glen has been a holy site since at least the coming of Christianity to Cornwall and very likely long before that time. Cut into the solid rock above the waterfall is a hermitage, or chapel oinked to St Nectan, a 6th-century saint.
The Kieve is still considered a holy place by many visitors and the mossy rock ledges around the waterfall are covered with mementoes, pieces of brightly coloured cloth, coins, and personal offerings.
To get this photo I had to walk out into the pool at the base of the waterfall. I came prepared; I stuffed my rubber boots into my unwilling backpack and lugged them two miles to the waterfall.
I needn't have bothered, for the owners of the waterfall and its cafe have thoughtfully provided wellies for visitors.
I did have to be very careful, though, as the spray from the falling water kept covering my camera lens, so I'd have to take a photo, then turn the camera around and check for water droplets after every attempt.
---
Britain Express UK Image Shop
Our online shop offers canvas prints, framed prints, metal prints, acrylic prints, posters, iPhone cases, Galaxy cases, and greeting cards of UK scenes, specialising in historic sites and traditional locations around England, Scotland and Wales.
We've chosen Fine Art America to host our shop. FAA is the largest worldwide print-on-demand service and offers a wide variety of printed image products from 14 fulfilment centres in 5 different countries.
You can order in a wide variety of currencies (euros, Japenese yen, American, Canadian and Australian dollars), and products ship in 2-3 business days.