Crackington Haven Cornwall Prints
Beautiful photos of England, Scotland, and Wales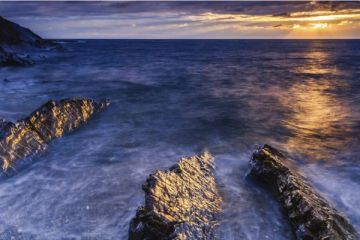 The Story Behind the Image - Crackington Haven

Crackington Haven is a small village in north Cornwall near Widemouth Bay. My family and I spent a wonderful week in a holiday cottage at nearby Rosecare and I managed to snatch several evenings of photography along the small beach.

What makes Crackington Haven so appealing is that there are several long, narrow ridges of rock jutting out into the water from the rugged cliffs that line the beach.
These ridges are like knife edges in places, but what makes them so incredibly photogenic is the colour of the rocks themselves, which seem to glow when they are wet.

On this occasion, I was trying to photograph the setting sun hitting the rock ridges. Unfortunately, the evening sun had given way to cloud, and it seemed that my visit would prove to be in vain.
Then, just a few moments before the sun sank below the horizon for good, the clouds parted and the sun bathed the rocks with a wonderful golden glow. I only had time for a few photos before the sun was gone, and this is my favourite.
---
Britain Express UK Image Shop
Our online shop offers canvas prints, framed prints, metal prints, acrylic prints, posters, iPhone cases, Galaxy cases, and greeting cards of UK scenes, specialising in historic sites and traditional locations around England, Scotland and Wales.
We've chosen Fine Art America to host our shop. FAA is the largest worldwide print-on-demand service and offers a wide variety of printed image products from 14 fulfilment centres in 5 different countries.
You can order in a wide variety of currencies (euros, Japenese yen, American, Canadian and Australian dollars), and products ship in 2-3 business days.