Launceston Castle Prints
Beautiful photos of England, Scotland, and Wales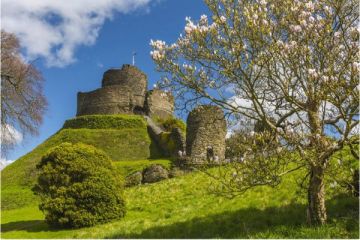 The Story Behind the Image - Launceston Castle
Spring blossoms frame historic Launceston Castle in Launceston, Cornwall. The castle was built by Richard, Earl of Cornwall in the 13th century and was later used as an infamous gaol. The most famous prisoner to be held in Launceston gaol was George Fox, the founder of Quakerism.
This photo owes a lot to sheer bloody-minded persistence - as many of my photos do.
The first time I came to Launceston I had great plans to take a photo of the castle, but as I approached the town the heavens opened and Launceston was deluged by rains of Biblical proportion. My experience of visiting the castle that day consisted mainly of running at full tilt from the visitor centre to the dubious shelter of the ruined walls and then back again.
But, nothing daunted, I made plans to visit again on my way back north from the south coast of Cornwall to my home in the Cotswolds. This time the gods of photography were smiling on me, and it was a glorious day with blue skies and golden sunshine.
I was able to take this photo - not from within the castle grounds but actually outside in the neighbouring park, holding my camera over the boundary fence.

---
Britain Express UK Image Shop
Our online shop offers canvas prints, framed prints, metal prints, acrylic prints, posters, iPhone cases, Galaxy cases, and greeting cards of UK scenes, specialising in historic sites and traditional locations around England, Scotland and Wales.
We've chosen Fine Art America to host our shop. FAA is the largest worldwide print-on-demand service and offers a wide variety of printed image products from 14 fulfilment centres in 5 different countries.
You can order in a wide variety of currencies (euros, Japenese yen, American, Canadian and Australian dollars), and products ship in 2-3 business days.