Castle Stalker Rainbow Prints
Beautiful photos of England, Scotland, and Wales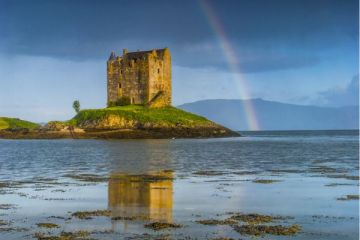 The Story Behind the Image - Castle Stalker Rainbow
A rainbow paints the morning sky over historic Castle Stalker in Argyll, on the west coast of Scotland. Castle Stalker is perhaps best known for its appearance in the film Monty Python and the Holy Grail, but it deserves better recognition as one of the most beautifully situated castles in all of Scotland.
The castle was built in the early 14th century by the MacDougalls, Lords of Lorn. The lordship of Lorn later passed to the Stewart family and the current castle was erected by John Stewart of Lorn in 1446.
Over the next several centuries Castle Stalker saw murder and bloodshed, was captured and recaptured, withstood sieges and fell to violent attacks.

To get this photo I had to arrive before dawn and walk along the shore in my rubber boots. I found a good vantage point and waited for the first light of morning to hit the castle.
What I hadn't anticipated was the sudden appearance of a rainbow! It was only there for a brief minute but I managed to capture this photo before rain swept in and the castle was shrouded in mist.

---
Britain Express UK Image Shop
Our online shop offers canvas prints, framed prints, metal prints, acrylic prints, posters, iPhone cases, Galaxy cases, and greeting cards of UK scenes, specialising in historic sites and traditional locations around England, Scotland and Wales.
We've chosen Fine Art America to host our shop. FAA is the largest worldwide print-on-demand service and offers a wide variety of printed image products from 14 fulfilment centres in 5 different countries.
You can order in a wide variety of currencies (euros, Japenese yen, American, Canadian and Australian dollars), and products ship in 2-3 business days.