Eilean Donan Castle Prints
Beautiful photos of England, Scotland, and Wales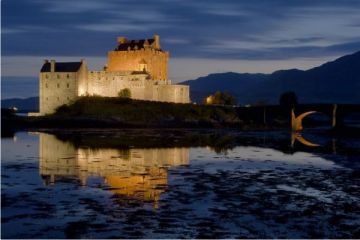 The Story Behind the Image - Eilean Donan Castle at Night
I was heading north from my home in Gloucestershire on my way to the ferry at Uig, on the Isle of Skye, to the Isle of Lewis. That's a long way, so I booked a B&B in Dornie, thinking that I could photograph nearby Eilean Donan Castle if it was a nice evening.

What I didn't count on was how long the drive was and how tired I would be after 10 hours of steady driving. The weather didn't look promising, either, as I booked into my B&B and settled into my room. I was so tired that I actually was relieved that the evening didn't look promising.
I was relaxing after dinner in my room when I glanced out of the window to see that with that suddenness that only the Scottish Highlands can manage the sky had suddenly cleared and the late evening sun was casting a golden glow in the castle.
My fatigue forgotten, I grabbed my camera and headed for the loch. I photographed the castle from the shore, but after the sun went down I decided to see if I could get a good long-exposure photo of the castle illuminated by floodlights.
It sounded like a good idea so I set up my camera near the parking area on the shore of the loch and waited. And waited.
I hadn't realised that the floodlights would not come on until the light was completely gone, and in summer that doesn't happen until very late. It was past 23:00 (11 pm in old money) when the light had completely gone and the castle was lit by floodlights. What a long day!

---
Britain Express UK Image Shop
Our online shop offers canvas prints, framed prints, metal prints, acrylic prints, posters, iPhone cases, Galaxy cases, and greeting cards of UK scenes, specialising in historic sites and traditional locations around England, Scotland and Wales.
We've chosen Fine Art America to host our shop. FAA is the largest worldwide print-on-demand service and offers a wide variety of printed image products from 14 fulfilment centres in 5 different countries.
You can order in a wide variety of currencies (euros, Japenese yen, American, Canadian and Australian dollars), and products ship in 2-3 business days.