Great English Gardens
by
Dr Barbara Sommerville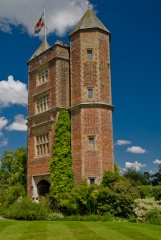 There are so many satisfactions to be found in a Great Garden. I don't necessarily mean a large garden, some of my "great" gardens are quite small.
The very smallest is the Browns' in Leeds. Frieda and Jo live in a council 'semi' - one building divided vertically into two houses - with a standard garden [yard to you] about 10 yards wide and 50 yards long. There they have a shed, two ponds, a fernery, several rockeries, sink gardens, many raised beds bordering the winding paths, secret corners and intriguing glimpses of concealed miniature gardens.
Of course, their friends benefit from all the thinning out and size limitation that goes on each Autumn and I do mean benefit. There are rarities which make the mouth water for Frieda is a fine plantswomen and lavishes the care needed to coax many a delicate perennial through a Yorkshire Winter. In the Summer there is a riot of eighty different clematises over the trellis bounding next door's garden and not an inch of bare soil, no vertical feature that is not spilling colour.
How do I know about this garden? I buy the National Garden Scheme's 'Yellow Book' each Spring which lists all the private gardens open to the public on Sunday afternoons, by county. If you are ever in England with a car on a Summer Sunday, I can recommend no better way of spending it than touring the open gardens nearby. Sometimes a village will have an open garden day and you can see possibly ten of the best gardens ranging from the manicured to the naturalised, suiting every taste and some serve tea and scones.
Many of my favourite large Great gardens belong to the National Trust. If one is planning to visit many then an annual membership of the N. T. or its U.S. arm, The Royal Oak Foundation, makes sense. One of these which everyone has heard of is Sissinghurst Castle in Kent, a 1930s garden created by the keen gardener, writer and poet, Vita Sackville-West, and her diplomat husband, Sir Harold Nicholson.
Among the ruins of an Elizabethan mansion, they made many self-contained gardens each with a theme or colour scheme, for instance, the white garden, at its best in June. A tall old brick tower still encloses Vita's study and affords a bird's eye view of the gardens from its top. So many people visit now that there is limited entrance and timed tickets.
Claremont Landscape Garden in Surrey is unique in that its gardens are the original early 18thC layout extended and naturalised by Kent and 'Capability' Brown. Brown is certainly the best known of English landscape garden designers because he was so fashionable that everyone who could afford, engaged him. He earned his prefix because he would deliberate for a little time as he viewed the new garden and then pronounce solemnly in his native Northumberland dialect - "Aye; it has capability".
The garden he was viewing may well have been a formal 16th-century parterre and knot garden with intricate plantings bordered by miniature box hedges and punctuated by quincunxes of clipped yew. As soon as Brown got to work, the plants were torn up and the ground levelled and rolled to merge with the surrounding fields.
The wide vista would be decorated by a lake and elegantly placed clumps of trees - transported there by Brown's specially designed horse-drawn tree trolley. An important element of the design were herds of peacefully grazing deer or cattle, kept away from the house by a concealed ditch - a 'ha-ha'. This was the 'back-to-nature' of English 18th-century landscape gardening which some garden historians acidly term "vandalism".
The 18th-century landscapers Brown and Kent were so successful that very few Tudor or 'Dutch' gardens escaped them but one that did is Levens Hall in Cumbria. The yew topiary is 300 years old and the trees, clipped in every imaginable shape, look every day of it. There are also younger bushes, exquisite elongated pyramids of dark green and gold underplanted with forget-me-nots and tulips, old walls dripping with wisteria and the sombre grey of the Hall and tower to form an appropriate back-drop.
Levens Hall is in the North West - the English Lake District, which is renowned for its scenery, glorious at all times of year but spectacular in the spring and autumn. Rhododendrons thrive on the rocky outcrops and in the shade of ancient trees. Clematis Montana and wisteria festoon the stone cottages. The Lakeland Horticultural Society's Holehird garden near Windermere is stunning. Equally appealing is the South West where Spring arrives early in this mildest part of England. In April the bulbs and alpines will be ablaze, the fruit blossom out and some magnolias and early rhododendrons. There are spectacular large gardens to visit like Hestercombe and the Royal Horticultural Society's garden at Rosemoor as well as charming smaller gardens like The Garden House.
Kent is known as "the garden of England" and there lives Christopher Lloyd, the garden writer, busily gardening around his superb medieval hall house of Great Dixter. As you can imagine, this is a garden not-to-be-missed. His weekend articles in the Guardian describe his plans for next season's borders. His tribulations and successes spur one on to be much more adventurous in one's own garden.
The problem with one's own garden is that it makes demands. Try as you may to saunter round it in a relaxed state of appreciation there, before you are an ever-increasing list of things which should have been done already and absolutely must be done now. There are also those depressing spaces, carefully labelled with the name of the rather expensive 'late' plant that you put there a few months ago. No, the ultimate gardening experience is only to be enjoyed in other people's Great gardens!
About the author
Dr Barbara A. Sommerville, (B.V.Sc.; PhD; M.I.Biol.; F.I.Biol. Dr Sommerville is a biologist of international repute and leader of FLORA Garden Tours. She is a research fellow at Cambridge University where she lectures on garden history, college gardens, and gardens in art and literature. She has had two novels published and in one the story revolves about Victorian gardening. In Summer, her favourite hobby is visiting gardens, large and small. Dr Sommerville decided to share her pleasure and knowledge by guiding garden enthusiasts around the great gardens of England, complementing the itinerary of each day with an illustrated lecture. A garden fancier's delight are the many private gardens which open on certain Sunday afternoons - listed in the "Yellow Book"- and FLORA Garden Tours also visit some of the best of these.
Contact Dr Sommerville at:
Flora Garden Tours website
Best of Britain Express Art Prints