Mysteries in British History
Posted:
2009-05-28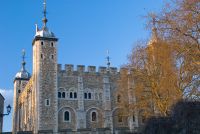 I happened to catch part of a show on the television a few days ago about Jack the Ripper. I'm not fond of 'true crime' but this show grabbed my attention because I have recently returned from a wonderful week photographing London for a new London Photo Gallery feature on Britain Express, and I had walked through the very streets of Whitechapel where the Ripper did his dreadful deeds. That got me thinking about historical mysteries. You know the sort of thing: "Why has the site of Boudicca's last battle never been found?", or "What really happened to the crew of the Mary Celeste?".
Most historical mysteries are intriguing because they are just that; a mystery, an unknown, and that's what makes them interesting. But I couldn't help but wonder; what's the greatest mystery in British history?
In no particular order, here are my top three British historical mysteries.
1. What happened to the Princes in the Tower? Traditional history (as written by Tudor historians with a definite axe to grind) held Richard III responsible for the disappearance and presumed murder of his nephews. Counter that with the efforts of the Richard III Society to portray Richard as a maligned and misunderstood royal leader, and you have a battle royal on your hands. I know the arguments one way and the other, and in truth, I can't make up my mind. I still suspect that the most likely answer is that Richard III killed the princes, but it certainly is not a clear-cut case one way or the other.
2. I'll put Jack the Ripper here. The dreadful Whitechapel murders captured the public imagination in a way that no other crime in British history has. Partly, I suppose, that's because of the gruesome nature of the crimes.
3. How did King Harold really die at the Battle of Hastings? OK, not a burning issue, this one. Tradition, as interpreted from the Bayeux Tapestry, says that King Harold died from an arrow in the eye. Later historians took a fresh look at the tapestry and decided that the knight with an arrow in his eye was not, in fact, Harold.
Apparently no contemporary accounts spoke of an arrow in the eye. I'm going to sneak another mystery in here, also associated with Harold. Did the Saxon king actually vow to give his kingdom to William, Duke of Normandy, as William claimed, or was that episode made up as a convenient excuse for the Norman invasion?
What would you put in your 'history mystery' list?
---
<< Chatsworth House Art Exhibition - Homecoming Scotland Pass >>
Attraction search