Whitby Abbey Victorian Gothic Nights
Posted:
2009-06-13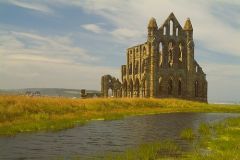 Whitby Abbey stands on a high cliff above the historic port of Whitby, in Yorkshire. The abbey is one of the most scenically situated of all medieval monastic ruins in England. Now, visitors will have the chance to enjoy the abbey at night in a new event sponsored by English Heritage.
Nights of Victorian Gothic gives visitors the opportunity to visit floodlit Whitby Abbey at night, and at the same time, learn about some of the creepier aspects of the Victorian period. The event takes place over the Halloween weekend of 29-31 October 2009.
Victorian Nights includes live-action storytelling, rifle firing, an appearance by a dashing highwayman, and a special night appearance of a Victorian Gothic funeral procession with a horse-drawn carriage.
Costumed performers offer demonstrations covering Victorian science, funerals, gruesome surgery, and a visit from a hangman.
Current Prices are as follows:
Adult:£9.00
Concession: £8.00
Child: £7.00
English Heritage Member Price (adult): £8.00
Member Price (concession): £7.00
Member Price (child): £6.00
That's not bad, but you can also save £2 per ticket by purchasing in advance.
Booking is required. Phone either 01947 603568 or 0870 333 1183
The event begins at 1800 hrs each night and runs until 2030 hrs, with the last admission at 1930 hrs.
In conjunction with the Nights of Victorian Gothic event, there is also a slightly less spooky Days of Victorian Gothic event. The details are essentially the same, except that Days of Victorian Gothic runs from 1200 to 1500 hours, booking is not required, and English Heritage members are admitted free.
I've visited Whitby Abbey and found it a fascinating site, well worth going to see. The location is superb, and the abbey ruins are among the finest in England (in fact, Whitby made it into my recent list of the 10 Best Medieval Monasteries in Britain).
Full details of the Nights (and Days) of Victorian Gothic events can be found on the English Heritage website. You can also browse our own travel information for Whitby Abbey.
---
<< Stonehenge Summer Solstice 2009 - 10 Best English History websites >>
Attraction search