The English Year
Posted:
2010-06-28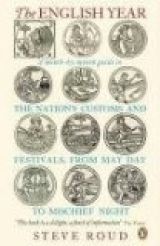 I just received a belated Father's Day (I was away for the 'actual' holiday), and one of the wonderful gifts I received is a copy of a book by Steve Roud entitled, The English Year, a Month by month Guide to The Nation's Customs and Festivals, from May Day to Mischief Night. That's quite a mouthful of a title, so I'll just call it The English Year from now on!
This is a wonderful little book (well, perhaps not so little, as the paperback edition weighs in at over 600 pages!). The book is divided into months, and within each month are listed the most fascinating collection of historic festivals, games, sports, traditions, customs, and downright peculiar events that are our legacy from England's history. Here you will find the origins of hot cross buns, how the Sheriffs of London are elected, and learn about the odd habit of wife-selling in English history.
There are special sections on Daily Customs, Weekly Customs, and Occasional Customs, as well as copious source notes and bibliographical information - useful if you want to find out more about Pennyloaf Day in Newark, Painswick Church Clipping, or decide whether or not to enter the Dunmow Flitch contest.
The book is wonderfully readable, in an entertaining yet very informative way; the sort of book you can read at length or just open randomly and dip into. Steve Roud is the author of The Penguin Guide to the Superstitions of Britain and Ireland, and joint author of the Oxford Dictionary of English Folklore. I highly recommend this book if you have even a passing interest in English heritage and history.
Amazon carries both the hardcover and softcover versions of the book here >>
---
<< Rutland - the Forgotten Treasure - Ouse Valley Way >>
Attraction search