Ouse Valley Way
Posted:
2010-06-28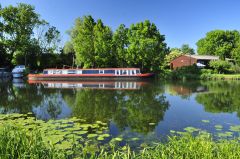 The Ouse Valley Way is a long-distance path running for 150 miles from the river's source at Syresham, near Brackley, Northamptonshire, to the sea at King's Lynn, Norfolk. The first section of the Way was opened in 1990 on a 26 mile section through the old county of Huntingdonshire, between Eaton Socon in the south west to Earith in the north west.
The Ouse Valley Way has been rather arbitrarily split into 5 main sections, each composed of 4 shorter sections ranging from 4 and 13 miles in length, though of course you can join any of these shorter sections together to create longer walks. The riverscape is generally flat, making this one of the easier long-distance walking trails in the country, and entirely suitable for families.
There are numerous places of historic interest along the route, including restored mills, grand historic houses like Stowe, smaller manors like Hemingford Grey Manor, and ancient market towns like Huntingdon and St Ives. The route passes through several nature reserves, including Paxton Pits, near St Neot's, Cambridgeshire, famous for its nightingales. The final stretch of the route crosses the fens of Cambridgeshire before finally reaching the sea at King's Lynn.
The official website at www.ousevalleyway.org.uk has maps of the route, plus accommodation and transportation links so you can plan your outing.
Editor's Note:
I've had the pleasure of walking several sections of the Ouse Valley Way in Huntingdonshire, including a stretch between Huntingdon and St Ives, and from Offord Cluny, through Paxton Pits nature reserve to St Neots. Its a wonderful outdoor experience, and the route passes through glorious riverside scenery. My particular favourite section is the stretch between the National Trust's Houghton Mill, through the lovely old villages of Hemingford Abbots and Hemingford Grey, to the market town of St Ives. Its a classic route, combining water meadows and riverside trails - a perfect way to spend a summer's afternoon.
Resources:
Ouse Valley Way official website
Cambridgeshire
Norfolk
Bedfordshire
---
<< The English Year - Tickencote Norman church >>
Attraction search