Rutland - the Forgotten Treasure
Posted:
2010-06-27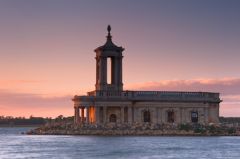 I've just returned from a week exploring England's smallest county, Rutland. Tucked in between the major population centres of eastern Northamptonshire to the south and Leicestershire to the north, Rutland is a forgotten treasure, a piece of quintessentially English countryside dotted with a couple of historic market towns and a few dozen peaceful villages.
I'll be writing about all there is to see in Rutland over the next few days and weeks, but for now let me highlight some of the historic highlights of what has been called 'the most English of English counties'.
The county town of Oakham lies to the north west of the county. It was once part of a royal hunting estate, and formed part of the dowry given by Edward the Confessor to his queen. To the north of Oakham High Street is what remains of Oakham Castle, built in 1180 by Walkelin de Ferrers. Oakham Castle boasts a very large collection of ceremonial horseshoes, as custom dictates that any peer of the realm visiting for the first time has to give a horseshoe to the lord of the manor. A short stroll from the castle is All Saints church, a superb Perpendicular Gothic church with a collection of wonderfully carved capitals, including one of a Green Man with vines emerging from his grinning mouth.
The second market town is Uppingham, famous for Uppingham School, founded in the late 16th century by Robert Johnson, who founded a similar school at Oakham at the same time. Near Uppingham is Lyddington, where you can visit the Bede House, all that remains of a medieval palace owned by the Bishops of Lincoln. South of Uppingham is the hamlet of Stoke Dry, where the parish church has two claims to fame. Tradition has it that in a room over the south porch the Gunpowder Plot was hatched. In the north chapel a medieval wall painting shows two figures that appear to be native Americans, and historians debate whether this is proof that Europeans reached North America centuries before Columbus.

One of the things that astounded me about Rutland was the sheer number of medieval churches with fascinating archtectural details. For example, at Tickencote, in the north east of the county, the parish church has a quite stunning Norman chancel arch, carved with a multitude of animal, human, and grotesque figures. The Norman carvings at Tickencote must be measured as some of the finest in England, but there are similar carvings, though on a less grand scale, at Egleton, on the west shore of Rutland Water.
Ah, yes, Rutland Water This manmade reservoir lies at the centre of the county, and draws visitors like a magnet. There are nature reserves along the shore, and Egleton itself hosts an annual bird watching festival. You can walk or cycle around the entire 27 mile perimeter, most of the way on a purpose-built track. On the south shore, the 18th century classical church of Normanton stands on a narrow promontory jutting out into the lake. The interior of the church has a museum which tells the story of Rutland, and how the reservoir was created.

These are just a few highlights. There are a number of stately homes just outside the Rutland borders, including Grimsthorpe Castle, Rockingham Castle, and Woolsthorpe Manor. If you want a place that is peaceful and quiet, a place to relax and enjoy a countryside break, I can highly recommend a stay in Rutland!

Resources:
Discover Rutland - official website
Rutland Travel Guide - our view
Hotels in Rutland - our listings
Bed and Breakfasts - our listings
<<
London Pass Top 10 Attractions
-
The English Year
>>
Attraction search