Pendennis Castle Medieval Joust Event
Posted:
2010-07-28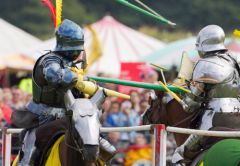 Historic Pendennis Castle, in Falmouth, Cornwall, is hosting a medieval Joust on 4-5 August. Our family quite enjoyed visiting the castle a few years ago (without the joust!), so if you have younger family members it might be a good way to spend an enjoyable family day out and get some history into them at the same time!
The Joust will showcase knights in medieval costume competing in mounted skills at arms. Watch as the knights battle on horseback, in full military armour of the day, in the impressive castle grounds.
After the jousting, medieval jesters will entertain visitors with their own special brand of comedy and wandering minstrels will serenade onlookers. Hawking was one of the most popular of medieval entertainments, so it seems only fitting that Raphael Falconry's graceful birds of prey will give aerial displays throughout the day to add to the medieval flavour.
In addition to experiencing the Grand Medieval Joust, visitors can explore Pendennis Castle's 450-year history. The castle was built between 1540 and 1545 by King Henry VIII to protect the coastline from the threat of invasion by France and Spain. Visitors will learn how Pendennis Castle played an integral role in protecting Cornwall right up until World War II.
Pre-booking for the Joust is recommended on 0870 333 1183 or visit www.english-heritage.org.uk/pendennis.
Details
What: Grand Medieval Joust
When: Wednesday 4 – Thursday 5 August, 11am – 5pm
Where: Pendennis Castle, Falmouth, Cornwall TR11 4LP
Prices: Adult: £8.80/ Concession: £7.10/ Child: £5.00/ Family: £22.60
English Heritage Members: Adult: £2.50/ Concession: £2.00/
Child: £1.50/ Family: £6.50
Resources:
Pendennis Castle - English Heritage info
Pendennis Castle - our article

---
<< Stirling Castle video on YouTube - English Heritage Time Traveller Summer Events >>
Attraction search