London Curiosities: The Capital's Odd & Obscure, Weird and Wonderful Places
Posted:
2017-04-11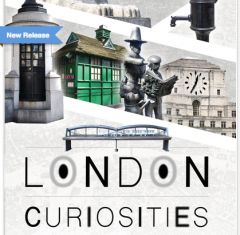 Did you know ...?
That's the question I kept asking my wife while reading John Wade's delightful little book 'London Curiosities'. As in 'Did you know there's a traffic bollard in Bankside made from a French cannon captured at the Battle of Trafalgar?', or, 'Did you know there's a network of underground passages and vaults under Camden Market known as the Camden Catacombs?', or one of my favourites, 'Did you know that the official Centre of London is the statue of King Charles I on the south side of Trafalgar Square?".
Wade's book is subtitled 'The Capital's Odd & Obscure, Weird and Wonderful Places', which is a pretty accurate description of this delicious dive into London's heritage and its sometimes peculiar, colourful, or just plain bizarre historical places.
London is full of odd buildings, monuments, houses, sculptures, and historic weirdness, and this enjoyable book takes a fairly random leap into the middle of the weirdness.
The author has taken an interesting approach; rather than list the Curiosities by location, the book is organised into loose and apparently unconnected themes. Themes include Houses, Buildings, Windmill and Lighthouses, Curious Clocks, Tunnels, Memorials and Monuments, Lost Locations, Roman Remains, and Egyptian London. In addition, there are chapters on what happened to exhibits built for the 1951 Festival of Britain, remains of London Bridge, and Peculiar Parks.
One of the most unusual chapters looks at how sculptures of pineapples can be found in various places around the capital, from obelisks at each end of Lambeth Bridge to the rooftops of buildings on Piccadilly Circus. Did you realise that the famous twin towers of St Paul's Cathedral are topped not by crosses, but by sculptures of pineapples?
My favourite snippet of historical fact is that the once-ubiquitous red telephone box was inspired by the tomb of Sir John Soanes, the famous Neo-Classical architect who is buried in the churchyard of St Pancras Old Church - thought to be the oldest site of Christian worship in London. Soanes himself designed the tomb some 20 years before his death in 1837. The marble monument is topped by a cupola supported on four columns.
Atop the cupola is, yes, a pineapple. What does this have to do with telephone boxes? The first telephone boxes were designed by Sir Giles Gilbert Scott and erected in 1927. Known as the K2, the telephone box design was inspired by Soanes' memorial, but did not, alas, have a pineapple on top.
The book is full of wonderful historic meanderings like this; detours into heritage byways. And speaking of byways, did you know that the narrowest alley in London is Brydges Place, linking Bedfordbury and Covent Garden? The lane is no more than 15 inches at any point - far too narrow for two people to pass. On one side of the lane entrance is The Marquis of Granby pub, a favourite of author Charles Dickens.
Speaking of narrow, did you know that the narrowest house in London is No. 110 Goldhawk Road in Shepherd's Bush? The house was built in the 1870s and was once a hat shop. It is five storeys high and just 5 feet six inches wide. Is a measure (pardon the pun) of how absurd property prices are in London that the house sold for £550,000 in 2009. Ah, but is it really the narrowest house in London? 10 Hyde Park Place, near Marble Arch, is just 3 feet six inches wide. It has only ever had one tenant, writer Lewis Grant Wallace.
I could go on and on. Unfortunately, the book doesn't; it left me wanting more. That's the mark of an interesting book; you don't want it to end. But when it did I was left with a predicament - how do I use the book now that I have a taste for some of London's curiosities? It isn't really a guidebook, because it lacks detailed information about how to find the odd locations it lists. It's more of a taster, something to get you interested enough to explore London with your eyes open so that you can discover your own oddities.
At the end of the book is a list of each Curiosity and its nearest postcode. Though perhaps useful for finding the location on an online map, I would have preferred to have the nearest tube station, or even more detailed information on how to find each location.
This is one area where I think the book could be improved; with more thorough information on how to find each Curiosity. That would make it more useful as a practical guide rather than as a very interesting read. That may be nit-picking, but its a measure of how enjoyable the book is that I immediately wanted to visit the Curiosities in person and experience them for myself!
Now excuse me, I must go prepare an itinerary for my next trip to London that includes the site of the Texas Legation, London's smallest memorial (two mice fighting over a piece of cheese), and the place where the Mayflower really began its epic voyage to the New World in 1620 (at Rotherhithe, South London).
London Curiosities is available from Pen and Sword Books and on Amazon.
DISCLOSURE:
Pen and Sword Books sent me a copy of the book to review, but the review is 100% my own opinion after reading and enjoying it.
---
<< The History of Newgate Prison Book Review - Six for the Tolpuddle Martyrs Book Review >>
Attraction search