Loch Maree, Scotland Prints
Beautiful photos of England, Scotland, and Wales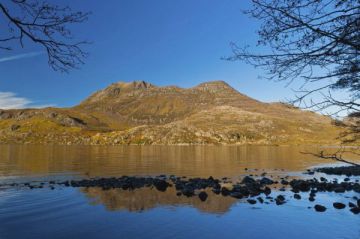 The Story Behind the Image - Loch Maree, Scotland

The area around Loch Maree is one of the most beautiful in Scotland - and that's saying something! Indeed, the view down Loch Maree was shortlisted for the favourite view in Britain in a recent national newspaper poll.
This photo was an afterthought. I had just spent several hours hiking through the Beinn Eighe Nature Reserve near Kinlochewe, and frankly, I was exhausted.

I dragged myself back to my car and started to put away my camera gear. It was only then that I noticed the blue waters of Loch Maree twinkling through a belt of trees between the parking area and the loch shore.
I was intrigued enough to grab my camera gear once more and set off through the trees to investigate.
What I found was a lovely little beach area by the shore with unobstructed views over the loch, with the mountain to the west reflected in the peaceful loch waters. What a gorgeous view and so utterly typical of Wester Ross.

---
Britain Express UK Image Shop
Our online shop offers canvas prints, framed prints, metal prints, acrylic prints, posters, iPhone cases, Galaxy cases, and greeting cards of UK scenes, specialising in historic sites and traditional locations around England, Scotland and Wales.
We've chosen Fine Art America to host our shop. FAA is the largest worldwide print-on-demand service and offers a wide variety of printed image products from 14 fulfilment centres in 5 different countries.
You can order in a wide variety of currencies (euros, Japenese yen, American, Canadian and Australian dollars), and products ship in 2-3 business days.