Wester Ross, Scotland Prints
Beautiful photos of England, Scotland, and Wales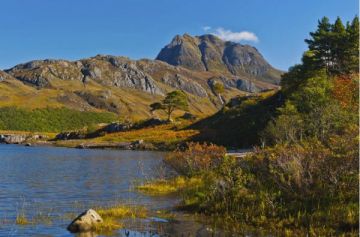 The Story Behind the Images - Wester Ross
Definitely not to be confused with 'Westeros' from the Game of Thrones books and TV series, Wester Ross is, well, the western half of Ross and Cromarty in the Scottish Highlands.
This huge area takes in some of the Highlands most beautiful scenic areas, but it remains relatively unknown and a quiet refuge from tourists.
Probably my favourite area is the incredible Pass of the Cattle, the closest thing in Scotland to an Alpine mountain pass, once used by drovers taking their cattle to market from the Applecross Peninsula.
The scenery along the Pass is simply stunning, with waterfalls looking up to high peaks. And on the far side of the Pass, you drop down to Applecross Bay, where the red sand makes amazing patterns in the shallow water.
Loch Maree, south of Gairloch, made the shortlist for the Best View in Britain. As you travel down the loch you have wonderful views to Slioch on the far bank. From Loch Maree, you can access the Beinn Eighe Nature Reserve, where a short but stiff climb brings you into an otherworldly area of small lochs and moorland with amazing views.
On the shore of Loch Ewe in Inverewe Garden, a remarkable semi-tropical garden sheltered in its own little micro-climate. From Poolewe you can take a gorgeous circular walk around Kernseray Loch.
Favourite Places to Photograph Wester Ross
Loch Ewe and Inverewe Gardens
Beinn Eighe Nature Reserve
Pass of the Cattle
Loch Maree
---
Britain Express UK Image Shop
Our online shop offers canvas prints, framed prints, metal prints, acrylic prints, posters, iPhone cases, Galaxy cases, and greeting cards of UK scenes, specialising in historic sites and traditional locations around England, Scotland and Wales.
We've chosen Fine Art America to host our shop. FAA is the largest worldwide print-on-demand service and offers a wide variety of printed image products from 14 fulfilment centres in 5 different countries.
You can order in a wide variety of currencies (euros, Japenese yen, American, Canadian and Australian dollars), and products ship in 2-3 business days.