Pass of the Cattle (Bealach na Ba) Prints
Beautiful photos of England, Scotland, and Wales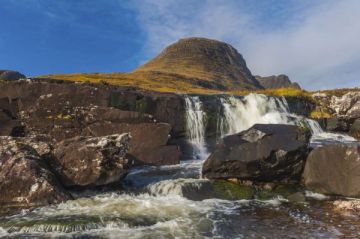 The Story Behind the Image - Pass of the Cattle Waterfalls
One of the most enjoyable photography outings of my life was a wonderful day I spent exploring the Pass of the Cattle in Wester Ross, and the amazing Applecross peninsula.
The Pass of the Cattle (Bealach na Ba in Gaelic) is a high mountain pass leading from Applecross on the coast to Ardarroch and Loch Kishorn. As the name suggests, the Pass of the Cattle was used as a route road for drovers taking their cattle to market.
It is the closest thing in the UK to an alpine pass and is usually impassable in the winter months.
I was driving over the Pas from east to west (Ardarroch to Applecross) and as I drove, my eye kept being drawn by the peculiar conical peak off to the west of the road.
I found a place to pull over and park and took my camera gear down the slope to Russel Burn where I found this lovely waterfall.
What you can't see in this photo is that a pair of naturalists were investigating mountain flora at the top of the falls. Their heads kept bobbing up above the waterfall just as I was ready to press my camera shutter.
Thankfully, they realised they were making an unexpected guest appearance in my photo and asked if I wanted them to keep low while I took this shot. So, you can't see it, but just out of sight above the waterfall are two very helpful scientists keeping their heads low to the ground!
---
Britain Express UK Image Shop
Our online shop offers canvas prints, framed prints, metal prints, acrylic prints, posters, iPhone cases, Galaxy cases, and greeting cards of UK scenes, specialising in historic sites and traditional locations around England, Scotland and Wales.
We've chosen Fine Art America to host our shop. FAA is the largest worldwide print-on-demand service and offers a wide variety of printed image products from 14 fulfilment centres in 5 different countries.
You can order in a wide variety of currencies (euros, Japenese yen, American, Canadian and Australian dollars), and products ship in 2-3 business days.