Scottish Countryside Attractions
Abernethy Forest - Yesnaby
Scotland Attractions Guide
I could almost include the whole of Scotland - with the exception of Glasgow, Edinburgh, Dundee and a few towns -in this section. So much of Scotland is wild and beautiful, seemingly untouched by human hands. The farther north, the more into the backcountry and remote islands you go, the more untamed the land. This selection of countryside spots is just a sampling of the wondrous landscape that awaits the traveller.
HISTORY CORNER
Name the Historic attraction
British Heritage Awards
Celebrate the best of British Heritage in our annual
British Heritage awards.
British History Quiz
The fourth wife of Henry VIII, who agreed to marry her partly on the basis of a flattering portrait painted by Holbein
This Day in British History
20 August, 1912
Death of William Booth
Booth (b. 1829) founded the Salvation Army in 1865 and served as its first General
Monarch Mayhem
This king was married to Berengaria of Navarre after a 20 year engagement to Alice of France
Featured Historic House: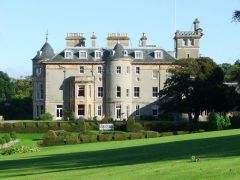 Finlaystone
- Langbank , Strathclyde , Scotland
Seat of Earls of Glencairn (William, the 9th Earl was Lord High Chancellor of Scotland under Charles II) for 400 years, now a MacMillan family home. Robert Burns often visited here. It dates from the14th century, rebuilt in mid 1700's. Purchased by the chair of Clyde Shipping Co. and repaired in 1900 but kept 18th century facade. Marble pillars and chimney pieces, decorated plasterwork ceilings. Fine furniture and paintings. Doll and Toy Museum, formal and … ... more
UK Ordnance Survey Maps
Every OS map including
Landranger, Explorer, and new Right to Roam. Free UK post and up to 36% Discount on OS Maps!