Hadrian's Wall Attractions Map
Most of the surviving sections of Hadrian's Wall are in the counties of Cumbria and Northumberland, and almost all, with the notable exception of Vindolanda, are under the care of English Heritage. Many are free to visit, including some of the most scenic stretches of the Wall, while others, like Housesteads and Birdoswald, have an admission fee (unless you are an English Heritage member).
Note that some of the most convenient parking areas along the course of the Wall, even at English Heritage sites like Housesteads and Brocolitia, are run by Northumberland National Park as pay and display, though you can reuse a ticket at other parking areas within a 24 hour period. If you are planning on doing any amount of walking along the wall, you'll need Ordnance Survey map OL 43. For accommodation along the Wall, including hotels, B&Bs, and self catering cottages, see each individual location, which will show the nearest available options.
---
Sites in Cumbria
Birdoswald Fort and Hadrian's Wall
Leahill Turret and Piper Sike Turret
---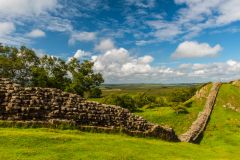 Sites in Northumberland
---
Sites in Tyne and Wear
Heddon-on-the-Wall (Hadrians Wall)
Attraction search