Kenilworth Castle hosts Armstrong Siddeley Anniversary
Posted:
2010-06-15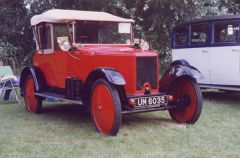 I get a lot of press releases for events taking place at historic places on Father's Day. Here's one that should prove interesting, especially if the father in your family is an historic automobile enthusiast like I am! This Father's Day, Kenilworth Castle in Warwickshire is hosting a classic car rally and birthday party, as the Armstrong Siddeley Owners Club celebrates its 50th anniversary at the castle which shared the same owner!
Here are more details, as provided by English Heritage:
For one day only, over 40 vintage Siddeley cars will be on display around Kenilworth Castle's grounds, highlighting one of the most prosperous eras in West Midlands' automotive construction. The Armstrong Siddeley was – and still is – regarded as a car well ahead of its time, a luxury vehicle which was favourably compared to the ultimate luxury car, the Rolls Royce!
Visitors will be able to mingle with the cars' owners and find out about the company and the vehicles, and join in some of the party games that the Club has organised, from making a steel ball roll uphill to fun activities which will see parents made to 'walk the plank'!
The Siddeley marque
In 1937 Kenilworth Castle was purchased by John Davenport Siddeley, a local entrepreneur who had made his fortune in the automotive industry. Cars bearing his name were produced for over 50 years, from the earliest models from 1902 to some of the most luxurious cars of the 1950s, with the last vehicle – and a model that visitors will be able to see on Father's Day - rolling off the production line in 1960.
Vehicles will be attending from every corner of the UK, being driven up from London and the South Coast, and even one coming over from Holland as part of the Owners Club's 50th-anniversary celebrations. The event at Kenilworth Castle will be the largest collection of Siddeley vehicles that anyone can see in the UK this year!
Event Details
The event runs from 11.00am to 5.00pm on Sunday 20 June, with the castle and Elizabethan Garden opening one hour earlier at 10.00am. Admission prices are £7.60 for adults, £6.50 for concessions and £3.80 for children, or £19.00 for a family ticket (two adults and three children). For more details, please call 01926 852078 or visit www.english-heritage.org.uk/kenilworth
More on Kenilworth Castle - our visit
---
<< Festival of British Archaeology 2010 - Orkney Venus >>
Attraction search