London Pass Top 10 Attractions
Posted:
2010-06-27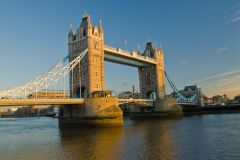 We've been promoting the London Pass on BritainExpress.com for a long time, because we think it offers very good value for visitors to one of the most fascinating and historic cities in the world. If you are spending more than a day or two in London you will easily recoup the cost of a Pass several times over. The London Pass has been around for a long time, too, and now has free or discounted entry to hundreds of locations around the city. The sheer scope of the discounts is a bit daunting to wade through (visit our London Pass detail page if you want to see the full list!). But for the rest of you, we've discovered a list of the 10 most popular attractions with users of the London Pass over the past few years (remember there are a lot more places to use the Pass as well!):
Thames River Cruise in London
A Thames river cruise is without doubt one of the best ways to see London, weaving through the heart of the city and past so many of its most famous attractions. See and experience the sights and splendour of this great city from the relaxed comfort of a City Cruises modern, all-weather boats with open upper decks and spacious lower saloons with panoramic windows.
Free Entry to The Tower of London
The Tower of London is one of the world's most famous fortresses and has seen service as royal palace, mint, prison, armoury and even a zoo. The ancient stones reverberate with dark secrets, priceless jewels glint in fortified vaults and pampered ravens strut the grounds. Our article on the Tower of London >>
Entry to London Bridge Experience
Enjoy a fascinating trip back in time as the London Bridge Experience delves through the history of the bridge, from Druids through to Victorians, meeting Vikings, Romans, and some creepy medieval characters along the way. Featuring real-life actors, stunning special effects and animations, this is unique interactive adventure really does takes you back in time.
Free Entry to St Paul's Cathedral
Come and experience the glory of St. Paul's Cathedral and see how it's dome dominates the London skyline. Built between 1675 and 1710 to a design by Sir Christopher Wren, the cathedral is a London icon. Our article on St Paul's Cathedral >>
Visit Windsor Castle for Free
Windsor Castle is the oldest and largest occupied castle in the world, and it's the official residence of her majesty the Queen. Built over 900 years ago the castle's floor covers a massive 480,000 square feet. Our article on Windsor Castle >>
Free Entry to London Tower Bridge
One the most impressive structures and sites in the capital, Tower Bridge in London has stood over the River Thames since 1894 and is one of the most recognizable landmarks in the world. Our article on Tower Bridge >>
Visit Kensington Palace for Free
Kensington Palace has been shaped by generations of royal women from Queen Mary to Victoria and, more recently Diana, Princess of Wales. Our article on Kensington Palace >>
Free Entry to Shakespeare's Globe Theatre
London sightseeing visitors can enjoy a trip back in time with a visit to the spectacular Shakespeare's Globe Theatre. Situated on London's Bankside, Shakespeare's Globe Theatre reconstruction the original building that housed Shakespeare's theatre in London, an open-air playhouse where the playwright penned many of his greatest plays. Our article on Shakespeare's Globe >>
Get Free Entry to Hampton Court Palace
Hampton Court Palace is the former home of the flamboyant King Henry VIII, he extended and developed this grand palace after acquiring it in the 1520's. Its many royal occupants have ensured the palace has fabulous furnishings, tapestries and paintings. Set in 60 acres of formal gardens, which include the famous maze and Great Vine, the palace is well worth a visit. Our article on Hampton Court Palace >>
Save Over £12 at Cabinet War Rooms
The Cabinet War Rooms are dedicated to the life of the 'greatest Briton', Sir Winston Churchill, and the secret underground headquarters that were the nerve centre of Britain's war effort. Our article on Churchill War Rooms >>
There's a lot of history in that list, and a lot of fun places to see. I think my personal favourite, if I absolutely had to choose only one, would be ... well, it would be a toss-up between St Paul's Cathedral and Windsor Castle! How's that for weaselling out of having to make a choice?
Resources:
Full London Pass details (including the entire list of attractions on offer)
London Travel Guide
---
<< Wales Open Doors Preview - Rutland - the Forgotten Treasure >>
Attraction search