Secret Places of the North York Moors
Posted:
2010-07-21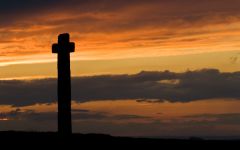 Another of our Secret Places articles, this time highlighting the North York Moors National Park. There's not a lot actually IN the Moors, as there are very few settlements, but there is certainly a lot to see around the fringes of the national park. Simply driving (or walking) through the moors is a treat in itself, and the scenery can be fabulous. (By the way, why do people keep on calling it the North 'Yorkshire' Moors national park?)
1. Lastingham Church - Under the nave of Lastingham's parish church is a superb Saxon survivor; the crypt of St Cedd. The word 'crypt' gives the wrong impression; it is really like a mini-church, underground, with fantastically carved columns supporting the vaulted roof. There's a real sense of history at Lastingham; an aura of a bygone age. Super stuff.
2. Young Ralph Cross - perhaps not a real 'secret', as it is the official symbol of the North York Moors National Park, but not exactly a major tourist attraction! The cross stands beside the road between Castleton and The Lion Inn. No one knows how old it is, probably it dates to the 12th century, though it has been rebuilt since then. Come here at sunset and you can't help but be moved by the stark beauty of the Moors.
3. Wheeldale Roman Road - Well, it may not be Roman, but it's usually called a Roman road, so we'll go along with that. This ancient cobbled roadway crosses a deserted stretch of moorland near Goathland. It's not impressive in the sense of, say, Hadrian's Wall, but there's a sense of mystery about it, and the location is fabulous. Local legend (I love local legends!) says that it was built by a giant as a way to get to market.
4. Malyan Spout waterfall - Goathland is popular as a stop on the North York Moors railway, and as the setting for the television series Heartbeat. But my favourite bit is down a path behind the Malyan hotel. The trail leads leads you downhill and along the river to a lovely waterfall called Malyan Spout. You can also follow the trail further to see smaller (and less impressive) falls.
5. Pickering church wall paintings - most people come to Pickering to see the castle, or to ride on the North York Moors railway. But there's a real historic treasure hidden away in the medieval church of St Peter and St Paul. Here you will find some of the finest surviving medieval wall paintings in Britain. Included among the many scenes are paintings of the martyrdom of St Paul, the martyrdom of St Edmund (are you noticing a theme here?), the Passion of Christ, St George and the Dragon, and many more. Simply stunning.
Resources:
North York Moors official website
North York Moors on Britain Express
---
<< Secret Places in the Cotswolds - Old Wardour Siege Re-enactment Event >>
Attraction search