Rutland Water Osprey Cruises
Posted:
2011-03-23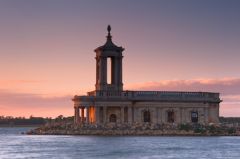 I visited Rutland last year for the first time and absolutely loved it. Strolling by the shore of Rutland Water to the redundant classical church at Normanton is absolutely magical, an experience not to be missed. of course, legging it is not the only way to get around Rutland Water. For the past 25 years, visitors have been able to enjoy cruises on the Rutland Belle, a passenger cruiser that plies the waters on regular routes from April through October.
This Spring marks the Silver Anniversary of the Rutland Belle's first voyage. On 2 April the Belle begins her 26th year in service. This year is extra special, for now you can enjoy taking to the water with another of Rutland's favourite activities - bird watching. Join special Osprey / Wildlife Cruises, timed to give you the best chance of seeing ospreys fishing for breakfast or tea. You will be joined by an experienced guide who will point out birds and wildlife of interest.
Ospreys in Rutland
The first osprey back in Rutland was spotted on Saturday 19th March. Last year (2010) there were 5 mating pairs nesting in the county and they raised 12 chicks between them. You can follow their progress this year at www.ospreys.org.uk where you can see a live 'nest cam'.
Visit the Rutland Osprey Project's website for details on cruises (look under 'Events') or call 01572 770651 for more details.
Rutland Belle Schedule:
2nd April - 18 April - weekends only
18 April - 30 September - daily
October - weekends only
Resources:
Rutland Belle
Rutland Osprey Project
Rutland Travel Guide - our look at the smallest county in Britain
Discover Rutland - official Rutland tourism website
---
<< World Heritage Site nominations - Scottish Castles Association >>
Attraction search