World Heritage Site nominations
Posted:
2011-03-23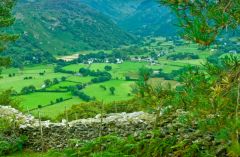 Well, the long, long process of nominating new British sites for World Heritage Site status has finally come to an end. The final list of 11 sites, plus 2 that had already been nominated, were announced by John Penrose, Tourism and Heritage Minister. Though some of the final sites are pretty obvious choices, others will raise a few eyebrows.
Well, they raised mine. Historic cities like Lincoln and York were overlooked in favour of former colonial locations like the Turks and Caicos Islands, a cave complex in Gibraltar, and the island of St Helena, where Napoleon was imprisoned. Other oddities include Charles Darwin's laboratory, which had previously been nominated. Historically interesting, yes. A World Heritage site? Hmm ....
The final list of sites include:
Chatham Dockyard and its Defences, Kent, England
Creswell Crags, Derbyshire/Nottinghamshire, England
Lake District, Cumbria
Gorham's Cave Complex, Gibraltar
The Island of St Helena, South Atlantic Ocean
Jodrell Bank Observatory, Cheshire, England
Slate Industry of North Wales
The Flow Country, Scotland
The Forth Bridge (Rail), Scotland
Turks & Caicos Islands, West Indies
Twin Monastery of Wearmouth-Jarrow, Sunderland and South Tyneside, England
Darwin's Landscape Laboratory, Kent, England
What happens next?
The new Tentative List will be sent to UNESCO, who intend to nominate successful new sites from 2012. Sites that are awarded a nomination slot will then be voted on by the World Heritage Committee to determine any new additions to the list of World Heritage Sites.
Resources:
Expert panel's full report - from the Department for Culture, Media, and Sport
Interactive map of the UK's current World Heritage Sites - also DCMS
UNESCO World Heritage Centre - official UNESCO website
---
<< Iron Age jewellery at National Museum of Scotland - Rutland Water Osprey Cruises >>
Attraction search