Beinn Alligin & Loch Torridon Prints
Beautiful photos of England, Scotland, and Wales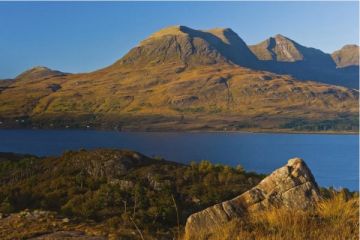 The Story Behind the Image - Beinn Alligin and Loch Torridon
One of the most enjoyable photography excursion of my life was a week I spent exploring the Torridon area from a base at a holiday cottage near Torridon village.
One day I was driving south along the road to Shieldaig when I spotted a layby on the side of the road that seemed to offer a good view across Loch Torridon to the peak of Beinn Alligin on the far bank.
I filed away the location in my mental list of 'places to come back to when the light is in the right place'. And so it proved, for a few days later I was driving north to Torridon in the early evening with golden light streaming over the loch.
I stopped at the viewpoint and walked along the hillside until I came to the striking rock in the foreground, lit by sunlight. I love the contrast of the small rock and the distant mountain, plus the gorgeous autumn colours.
---
Britain Express UK Image Shop
Our online shop offers canvas prints, framed prints, metal prints, acrylic prints, posters, iPhone cases, Galaxy cases, and greeting cards of UK scenes, specialising in historic sites and traditional locations around England, Scotland and Wales.
We've chosen Fine Art America to host our shop. FAA is the largest worldwide print-on-demand service and offers a wide variety of printed image products from 14 fulfilment centres in 5 different countries.
You can order in a wide variety of currencies (euros, Japenese yen, American, Canadian and Australian dollars), and products ship in 2-3 business days.