Loch Coulin, Torridon, Wester Ross Prints
Beautiful photos of England, Scotland, and Wales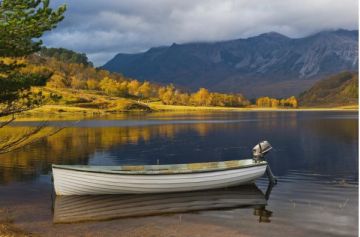 The Story Behind the Image - Loch Coulin, Glen Torridon
A boat sits on the peaceful waters of Loch Coulin, in Glen Torridon, Wester Ross, in the Scottish Highlands.
I was spending a week photographing the Torridon area, much of which is owned by the National Trust for Scotland. As I drove up and down Glen Torridon I noticed a sign for the Coulin Estate in the middle of the glen.
Intrigued, I studied my collection of travel guides for the area and realised that you can take a circular walking trail leading through the Coulin Estate past Loch Clair and Loch Coulin before returning to Glen Torridon
I decided to take the walk one dull, overcast autumn day. The sky was heavy, almost oppressive, and the day was so still that no breeze disturbed the waters of the loch.
I came upon this boat riding peacefully by the loch shore. What I remember most vividly was how incredibly peaceful the scene was, with just a hint of sunlight breaking through the dark clouds.
---
Britain Express UK Image Shop
Our online shop offers canvas prints, framed prints, metal prints, acrylic prints, posters, iPhone cases, Galaxy cases, and greeting cards of UK scenes, specialising in historic sites and traditional locations around England, Scotland and Wales.
We've chosen Fine Art America to host our shop. FAA is the largest worldwide print-on-demand service and offers a wide variety of printed image products from 14 fulfilment centres in 5 different countries.
You can order in a wide variety of currencies (euros, Japenese yen, American, Canadian and Australian dollars), and products ship in 2-3 business days.