Thatched Cottage In Chipping Campden, Gloucestershire Prints
Beautiful photos of England, Scotland, and Wales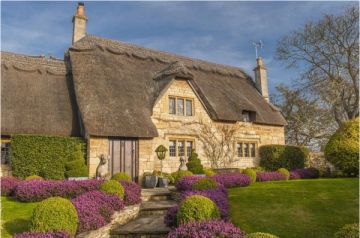 The Story Behind the Image - Thatched Cottage in Chipping Campden, Cotswolds

Chipping Campden is a pretty market town in the North Cotswolds, just a short drive from our family home. The town is perhaps best known for its picturesque market hall - and as the home of the annual Cotswold Olympicks (yes, that is the correct spelling) with its unusual mix of traditional sports and entertainment such as shin-kicking and the downhill cheese race.

It is also the northern terminus of the Cotswold Way long-distance footpath that stretches along the Cotswold escarpment all the way to the outskirts of Bath.
Chipping Campden is also home to several ridiculously pretty thatched cottages, including this much-photographed house on the corner of Sheep Street, a short stroll from the High Street.
To get this photo I made a special trip, arriving in the early morning of a sunny summer day so that the light was falling directly on the front facade of the house and lighting the lovely front garden.
---
Britain Express UK Image Shop
Our online shop offers canvas prints, framed prints, metal prints, acrylic prints, posters, iPhone cases, Galaxy cases, and greeting cards of UK scenes, specialising in historic sites and traditional locations around England, Scotland and Wales.
We've chosen Fine Art America to host our shop. FAA is the largest worldwide print-on-demand service and offers a wide variety of printed image products from 14 fulfilment centres in 5 different countries.
You can order in a wide variety of currencies (euros, Japenese yen, American, Canadian and Australian dollars), and products ship in 2-3 business days.