Northleach Church, Cotswolds Prints
Beautiful photos of England, Scotland, and Wales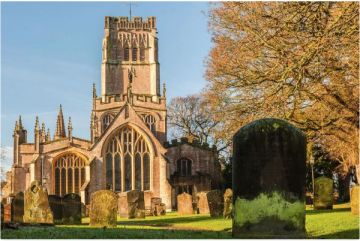 The Story Behind the Image - Northleach Church, Cotswolds
The church of St Peter and St Paul in the Cotswold town of Northleach, Gloucestershire is a superb medieval 'wool church', built with the wealth of 15th-century Cotswold wool merchants.
Northleach is an attractive town in the North Cotswolds near Bibury, blessed with a number of attractive timber-framed buildings, but it is the church that really makes Northleach worth visiting.

In the medieval period, the Cotswolds was a centre of the wool trade and many local merchants grew wealthy trading in locally grown wool from the 'Cotswold Lion' sheep.
They put some of that wealth into the local church, both as a way of giving back to their community but also as a way to ensure the spiritual welfare of themselves and their families.
Some of the wealthiest wool merchants were the Fortey family, who helped pay for much of the superb church we see today. The Fortey family memorial brasses are set into the nave floor near the pulpit.
---
Britain Express UK Image Shop
Our online shop offers canvas prints, framed prints, metal prints, acrylic prints, posters, iPhone cases, Galaxy cases, and greeting cards of UK scenes, specialising in historic sites and traditional locations around England, Scotland and Wales.
We've chosen Fine Art America to host our shop. FAA is the largest worldwide print-on-demand service and offers a wide variety of printed image products from 14 fulfilment centres in 5 different countries.
You can order in a wide variety of currencies (euros, Japenese yen, American, Canadian and Australian dollars), and products ship in 2-3 business days.