Pobull Fhinn Stone Circle, North Uist Prints
Beautiful photos of England, Scotland, and Wales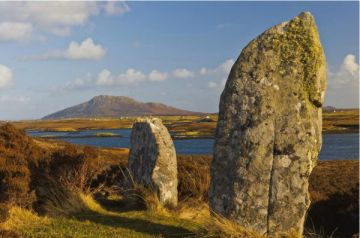 The Story Behind the Image - Pobull Fhinn Stone Circle, North Uist
Pobull Fhinn translates loosely from the Gaelic as 'Finn's People', a reference to Finn McCool (Fionn mac Cumhail), the legendary Celtic hero.
The stone circle stands on the eastern shore of North Uist in Scotland's beautiful Western Isles, south of Lochmaddy. If you take a footpath from the stone circle over the top of the hill to the west you will come to the Barpa Langais burial mound.
I photographed Pobull Fhinn several times over the course of two wonderful weeks I spent in the Western Isles.
My first two visits were accompanied by overcast skies and proved to be disappointing, but on the third occasion I came on a glorious late afternoon when the sun cast golden light on the standing stones and illuminated the waters of Loch Langais beyond. What a wonderful view!
---
Britain Express UK Image Shop
Our online shop offers canvas prints, framed prints, metal prints, acrylic prints, posters, iPhone cases, Galaxy cases, and greeting cards of UK scenes, specialising in historic sites and traditional locations around England, Scotland and Wales.
We've chosen Fine Art America to host our shop. FAA is the largest worldwide print-on-demand service and offers a wide variety of printed image products from 14 fulfilment centres in 5 different countries.
You can order in a wide variety of currencies (euros, Japenese yen, American, Canadian and Australian dollars), and products ship in 2-3 business days.