Uig Beach, Isle of Lewis Prints
Beautiful photos of England, Scotland, and Wales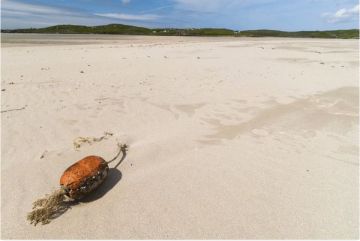 The Story Behind the Image - Uig Beach, Isle of Harris
A piece of jetsam lies on the white sandy beach at Traigh Uig near Timsgarry on the Isle of Lewis. Traigh Uig is a glorious expanse of clear white sand on the west coast of Lewis, in Scotland's Western Isles.
Traigh Uig is most famous for the place where the Lewis Chessmen were discovered. The chess pieces were carved locally in the 8th century.
A large sculpture of one of the famous chessmen stands at the parking area for the beach.
I came here on a gorgeous sunny afternoon in spring. What struck me most is the sheer scale of the beach; the white sand seemed to stretch for miles in all directions and all I could see were a few distant walkers enjoying the sunshine. What an incredible scene - and an incredibly beautiful island.
---
Britain Express UK Image Shop
Our online shop offers canvas prints, framed prints, metal prints, acrylic prints, posters, iPhone cases, Galaxy cases, and greeting cards of UK scenes, specialising in historic sites and traditional locations around England, Scotland and Wales.
We've chosen Fine Art America to host our shop. FAA is the largest worldwide print-on-demand service and offers a wide variety of printed image products from 14 fulfilment centres in 5 different countries.
You can order in a wide variety of currencies (euros, Japenese yen, American, Canadian and Australian dollars), and products ship in 2-3 business days.