Edith Cavell biography
Patriotism is not enough, I must have no hatred or bitterness to anyone.
Edith Louise Cavell was born in 1865 at Swardeston, just south of Norwich. He father was the vicar of Swardeston for over 50 years, and faith was to play an important role in her life from an early age.
Cavell showed talent as an artist but it was in linguistics that she really shone. She learned French, and had several jobs as a governess. One of these governess posts took her to Belgium in 1890, but just five years later she returned to Norfolk to nurse her father, who had fallen ill.
Her experience led Edith to pursue a career in nursing, and for the next decade she followed this goal. In 1905 she returned to Belgium and took over a training school for nurses just outside Brussels.
Over the next nine years she returned often to visit her family in Norfolk, particularly her mother, who moved to Norwich after Edith's father died. It was during one such visit home that Edith learned of the German invasion of Belgium.
Despite the risk, she returned to Brussels in August 1914.
A few months later two British soldiers, stranded behind Germa lies, made their way to Cavell's nursing school. Ignoring the risk, Cavell helped the soldiers escape to Holland, which was neutral. Cavell then helped develop an underground network to aid Allied servicemen in escaping from occupied Belgium. In total over 200 soldiers escaped with Cavell's help.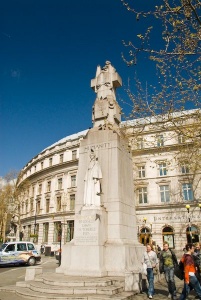 But it was not to last.
In July 1915, two members of Cavell's group were arrested, and Cavell herself was taken five days later. She and her helpers were sentenced to death after a secret trial. Despite the efforts of the Ambassadors of Spain and the USA (both neutral at that time), the German army was determined to carry out the execution.
An English chaplain, Reverend Stirling Gahan, was allowed to visit with Cavell and the 4 other accused on the night before he execution. He wrote an account of his conversation with Clavell, including the famous quote which leads this article. On the morning of 12 October 1915 Cavell and her comrades were executed by firing squad.
A rather bizarre mythology grew up around Cavell's death, fueled in part by Allied propaganda keen to portray the Germans as barbaric fiends. In various accounts, Cavell was said to have fainted, or refused to wear a blindfold, or been personally shot by the German commander with his pistol.
The press had a field day, and Cavell was proclaimed a national heroine. Within eight weeks of her death, army recruitment doubled. This was no insignificant change, for this was in the days before conscription, when soldiers were all volunteers.
Cavell's body was returned to England, and she was given a state funeral at Westminster Abbey. A dedicated train brought her remains from London to Norwich, and a procession was held as her body was carried from the train station to the east end of Norwich Cathedral, where she was buried.
Every October (usually on the anniversary of her death) there is a special service at Cavell's grave.
A memorial was erected to her near the Erpingham Gate leading to the cathedral close, and there is another memorial on St Martin's Lane, London, just off Trafalgar Square. In Swardston, her birthplace, a special memorial window was dedicated in St Mary's church in 1917.
Holywood took an interest in the Cavell story. In 1939 Anna Neagle starred in a film called 'Nurse Edith Cavell'.
To see:
Norwich
St Mary's church, Swardeston
Cavell's grave at Norwich Cathedral
Cavell monument just outside the cathedral gate in Tombland
London
Memorial to Cavell on St Martin's Lane
In Bawdsey church, Norfolk, there is a memorial to Cavell's great-uncle Edward, and a medallion given to the church in memory of Cavell and fellow nurse Marie Depage, who worked with Edith and tragically died in the sinking of the Lusitania in 1915.
Image of the Swardeston memorial window is (c) Evelyn Simak, republished with gratitude under a Creative Commons license
Attraction search