Tickencote Norman church
Posted:
2010-06-30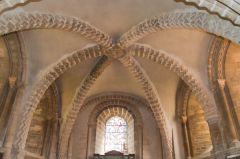 I'm in the process of adding articles on Rutland to the site, having just returned from a week stay on the south shore of Rutland Water. One of the highlights of my stay was a totally unexpected delight; the Norman church in the little village of Tickencote. The church boasts the most extraordinary chancel arch, and chancel. The arch is copiously decorated with carvings of animals, humans, and strange beasts. The chancel itself has wonderful Norman vaulting and a rare sculptured Norman roof boss. The overall effect is simply stunning.
I wasn't even aware of Tickencote before my visit to Rutland - and I'm very keen of historic churches, particularly Saxon and Norman ones. And that points to an issue - Rutland is blessed with a really high concentration of historic churches, as much or more than any area in the country, yet they are practically unknown to the public at large.
I'm hard-pressed to think of anywhere in England that has so many historic churches concentrated in a small area like Rutland. Tickencote is probably the most impressive, but there are fantastic Norman carvings in other places, notably at Egleton, on the west shore of Rutland Water.
I've created a gazetteer of historic churches in the county, and will be adding more information over the next few days, and posting photos to help give a flavour of the numerous fascinating churches in the area.
One other point which I almost forgot. I think Rutland has the highest number of churches open to the public of any place I have visited. I can think of only 1 church that was locked, and in that case, the keyholder was next door. Many churches are open all day, others during daylight hours only.
Resources:
Tickencote church
Tickencote photo gallery
Rutland historic churches gazetteer
Rutland Travel Guide
---
<< Ouse Valley Way - Launde Abbey Appeal >>
Attraction search