Bodiam Castle Prints
Beautiful photos of England, Scotland, and Wales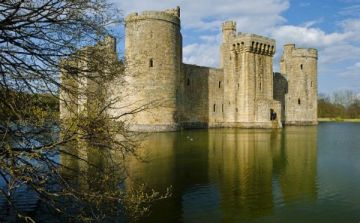 The Story Behind the Image - Bodiam Castle
Bodiam is the archetypal moated castle, built in 1385 by Sir Edward Dalyngrigge (or Dalingridge) in anticipation of a French invasion which never materialised. Sir Edward chose a spot on the low-lying ground beside the River Rother and defended his castle with a wide moat.
Though Bodiam never had to face a French invasion, it was attacked in 1484 by King Richard II. The castle could not withstand the king's attack and was briefly captured.
It also fell to an attack by Parliamentary soldiers during the Civil War but this time it was not so lucky and Parliament 'slighted' Bodiam so that it could never be used for military purposes again. The result is the romantic ruin we see today.
I came to Bodiam by a river boat from Northiam and had just 45 minutes to explore the castle before the boat left for its return journey. I got lucky with the light!
---
Britain Express UK Image Shop
Our online shop offers canvas prints, framed prints, metal prints, acrylic prints, posters, iPhone cases, Galaxy cases, and greeting cards of UK scenes, specialising in historic sites and traditional locations around England, Scotland and Wales.
We've chosen Fine Art America to host our shop. FAA is the largest worldwide print-on-demand service and offers a wide variety of printed image products from 14 fulfilment centres in 5 different countries.
You can order in a wide variety of currencies (euros, Japenese yen, American, Canadian and Australian dollars), and products ship in 2-3 business days.