Corfe Castle, Dorset Prints
Beautiful photos of England, Scotland, and Wales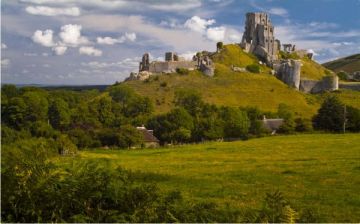 The Story Behind the Image - Corfe Castle
The picturesque ruins of Corfe Castle in Dorset make it one of the most-photographed medieval castles in England. The castle stands on a high outcrop of rock on the Isle of Purbeck.

The most memorable moment in the castle's long history came in AD 975 when Queen Aelfrida murdered her stepson King Edward the Martyr to put her own son Aethelraed (otherwise known as Ethelred) on the throne. It was a move that backfired, as Aethelraed was ill-suited to reign and was unable to withstand attacks by the Danes. So badly did he do as a leader that he is remembered by the moniker 'Aethelraed the Unready'.
Corfe Castle - which gives its name to the village - is best photographed from a distance, so you can see the fairytale mix of walls and towers rising above the cluster of houses at its base.
I drove south-west down the road to Church Knowle and found a place to park by the side of the road. Then I walked into the neighbouring farm field, following a public footpath until I found a vantage point to catch the early morning sun on the castle. Wow.

---
Britain Express UK Image Shop
Our online shop offers canvas prints, framed prints, metal prints, acrylic prints, posters, iPhone cases, Galaxy cases, and greeting cards of UK scenes, specialising in historic sites and traditional locations around England, Scotland and Wales.
We've chosen Fine Art America to host our shop. FAA is the largest worldwide print-on-demand service and offers a wide variety of printed image products from 14 fulfilment centres in 5 different countries.
You can order in a wide variety of currencies (euros, Japenese yen, American, Canadian and Australian dollars), and products ship in 2-3 business days.