St Michael's Mount, Cornwall Prints
Beautiful photos of England, Scotland, and Wales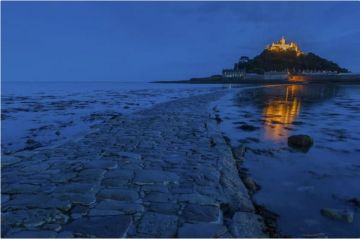 The Story Behind the Image - St Michael's Mount, Cornwall
Is there a more romantic sight in England than St Michael's Mount, Cornwall? What an incredible location.
This picturesque island in Mount's Bay, near Penzance, Cornwall, boasts not only a ruined medieval monastery but a stately home built from a medieval fortress. The island can only be reached by a cobbled causeway from the village of Marazion when the tide is out.
I've photographed St Michael's Mount on several occasions. This particular time I made a special trip to Cornwall just to photograph it, staying in a lovely bed and breakfast just a mile away. I could see the island from my bedroom window.
One of the challenges for photographing St Michael's Mount is that it is so popular! I arrived at Marazion thinking I would capture the castle lit by the setting sun, with the causeway in the foreground.
What I didn't count on was that there would be a dozen or more photographers standing on the causeway, all intent on the same shot. Rather than try to jostle my way to the front of the queue I decided to find an alternate viewpoint and happily photographed St Michael's Mount from further along the shore.
One by one, the other photographers left, and as evening finally merged into night, the causeway at last stood deserted. I had time for only a few photos before the tide rolled in and covered the causeway, but I'm very happy with how it turned out!
---
Britain Express UK Image Shop
Our online shop offers canvas prints, framed prints, metal prints, acrylic prints, posters, iPhone cases, Galaxy cases, and greeting cards of UK scenes, specialising in historic sites and traditional locations around England, Scotland and Wales.
We've chosen Fine Art America to host our shop. FAA is the largest worldwide print-on-demand service and offers a wide variety of printed image products from 14 fulfilment centres in 5 different countries.
You can order in a wide variety of currencies (euros, Japenese yen, American, Canadian and Australian dollars), and products ship in 2-3 business days.