Whittington Castle, Shropshire Prints
Beautiful photos of England, Scotland, and Wales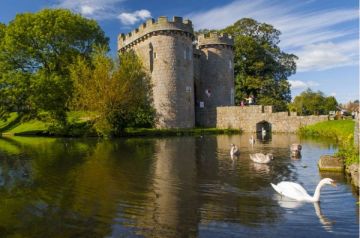 The Story Behind the Image - Whittington Castle
Whittington Castle has nothing to do with Dick Whittington, famously three-times Lord Mayor of London. Rather, it owes its name to its location in the pretty Shropshire town of Whittington.
The castle is unusual in that it is, as far as I know, the only castle in England to be completely owned by the local community.
The best-preserved part of the castle is the gatehouse, seen here, with two D-shaped towers flanking an arched entrance passage and reached by a stone bridge over a wide moat.
I thought that the gatehouse would be a good subject for a photo, so I walked around the outside of the moat to find a good angle. What I hadn't anticipated was that a large swan would follow me, hoping for food handouts.
As the swan got closer it spied something in the water and stretched out its long neck. I snapped the shutter at precisely that moment. I love the graceful curve of the swan's neck and how its body seems to lead my eye to the imposing castle gateway.

---
Britain Express UK Image Shop
Our online shop offers canvas prints, framed prints, metal prints, acrylic prints, posters, iPhone cases, Galaxy cases, and greeting cards of UK scenes, specialising in historic sites and traditional locations around England, Scotland and Wales.
We've chosen Fine Art America to host our shop. FAA is the largest worldwide print-on-demand service and offers a wide variety of printed image products from 14 fulfilment centres in 5 different countries.
You can order in a wide variety of currencies (euros, Japenese yen, American, Canadian and Australian dollars), and products ship in 2-3 business days.