Kirby Muxloe Castle, Leicestershire Prints
Beautiful photos of England, Scotland, and Wales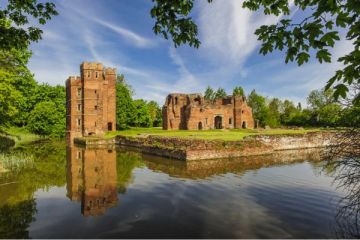 The Story Behind the Image - Kirby Muxloe Castle
Kirby Muxloe Castle is not one of the highest-profile English Castles. Compared to places like Warwick Castle or even Bodiam Castle it is relatively unknown, yet for my money, it is one of the most beautiful.
It is also one of the first major buildings in England to be made entirely of brick. Though brick is now so ubiquitous as to be unremarkable, in the 14th century it was a high-status material and to build a castle entirely of brick was a statement of wealth and prestige.

My wife and I made a special trip from our home in the Cotswolds to see Kirby Muxloe on a day that promised to be sunny. It took about 90 minutes to get there and thankfully the promised sun did indeed arrive.
The waters of the moat were wonderfully still and reflected the castle ruins so beautifully. I walked around and around the moat looking for the best angle and this is the result. This photo was shortlisted for the annual Historic Photographer of the Year Award (sponsored in part by Historic England).

---
Britain Express UK Image Shop
Our online shop offers canvas prints, framed prints, metal prints, acrylic prints, posters, iPhone cases, Galaxy cases, and greeting cards of UK scenes, specialising in historic sites and traditional locations around England, Scotland and Wales.
We've chosen Fine Art America to host our shop. FAA is the largest worldwide print-on-demand service and offers a wide variety of printed image products from 14 fulfilment centres in 5 different countries.
You can order in a wide variety of currencies (euros, Japenese yen, American, Canadian and Australian dollars), and products ship in 2-3 business days.