Godshill, Isle of Wight Prints
Beautiful photos of England, Scotland, and Wales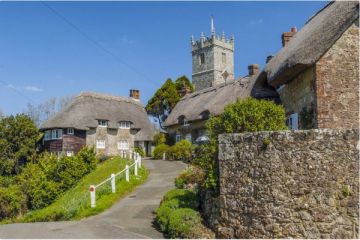 The Story Behind the Image - Godshill, Isle of Wight
The village of Godshill must be one of the most frequently photographed places on the Isle of Wight - if not in all of England.
Though much of the extended village is composed of modern housing estates, the core of Godshill consists of a cluster of incredibly pretty thatched cottages clustered around the ancient parish church.
I had to make two trips to get this photo. I wasn't familiar enough with the area to know exactly when the light would be in the right place to shine on the thatched cottages and the church tower.
So, when I came to Godshill the first time the sun was shining in my eyes.
But I'm nothing if not persistent (or just plain stubborn) and I returned again on the next sunny morning to get this wonderful view. I could live in a place like this!
---
Britain Express UK Image Shop
Our online shop offers canvas prints, framed prints, metal prints, acrylic prints, posters, iPhone cases, Galaxy cases, and greeting cards of UK scenes, specialising in historic sites and traditional locations around England, Scotland and Wales.
We've chosen Fine Art America to host our shop. FAA is the largest worldwide print-on-demand service and offers a wide variety of printed image products from 14 fulfilment centres in 5 different countries.
You can order in a wide variety of currencies (euros, Japenese yen, American, Canadian and Australian dollars), and products ship in 2-3 business days.