Thatched Cottage In Otterton, Devon Prints
Beautiful photos of England, Scotland, and Wales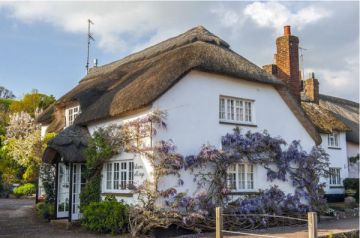 The Story Behind the Image - Thatched Cottage in Otterton, Devon
This photo came about because my wife needed a quick snack after a busy day of sightseeing.
Let me explain. We visited the beautiful Devon village of Otterton at the end of a long day exploring south-western Devon.
We just barely managed to reach Otterton in time to explore the restored water mill and the medieval parish church before it closed for the day. After visiting the church my wife decided that she needed a break and a bite to eat.
Me being the 'always active' sort, I decided to grab my camera and stroll around Ottertton while she had a quick bite and put her feet up in our car.
I was simply walking down the High Steet when I came to this beautiful thatched cottage, covered in wisteria. The scent of the wisteria on the summer breeze was simply heavenly.
---
Britain Express UK Image Shop
Our online shop offers canvas prints, framed prints, metal prints, acrylic prints, posters, iPhone cases, Galaxy cases, and greeting cards of UK scenes, specialising in historic sites and traditional locations around England, Scotland and Wales.
We've chosen Fine Art America to host our shop. FAA is the largest worldwide print-on-demand service and offers a wide variety of printed image products from 14 fulfilment centres in 5 different countries.
You can order in a wide variety of currencies (euros, Japenese yen, American, Canadian and Australian dollars), and products ship in 2-3 business days.