Thatched Cottage in Kingham, Oxfordshire Prints
Beautiful photos of England, Scotland, and Wales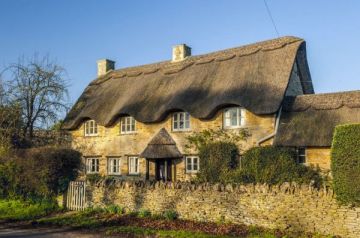 The Story Behind the Image - Thatched Cottage in Kingham, Oxfordshire
The Oxfordshire village of Kingham is just a few miles from our family home in the North Cotswolds, though we live across the county boundary in Gloucestershire.
We usually come to Kingham to take the train, as Kingham rail station is on the direct line between Worcester and London.
On this occasion, I simply decided I'd had enough of being cooped up in my home office. I could see the sun streaming in my office window and decided there were better ways to spend my life than slaving over a computer keyboard!
I hopped in my car and drove to Kingham, this time with the idea of exploring the village itself. I discovered several pretty thatched cottages, but this one was my favourite. It so typical of the cottages you find scattered all over the Cotswolds.

---
Britain Express UK Image Shop
Our online shop offers canvas prints, framed prints, metal prints, acrylic prints, posters, iPhone cases, Galaxy cases, and greeting cards of UK scenes, specialising in historic sites and traditional locations around England, Scotland and Wales.
We've chosen Fine Art America to host our shop. FAA is the largest worldwide print-on-demand service and offers a wide variety of printed image products from 14 fulfilment centres in 5 different countries.
You can order in a wide variety of currencies (euros, Japenese yen, American, Canadian and Australian dollars), and products ship in 2-3 business days.