Thatched Cottage in Taynton, Oxfordshire Prints
Beautiful photos of England, Scotland, and Wales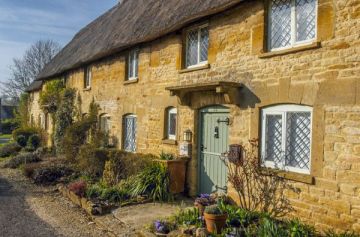 The Story Behind the Image - Thatched Cottage in Taynton, Oxfordshire
Taynton is a pretty village in West Oxfordshire, just outside the town of Burford. It is also just a few miles away from our family home in the Cotswolds.
Though we only live a few miles away I had never really explored Taynton until one day in spring when the sun was pouring in my office window.
I couldn't stand being inside on such a lovely spring morning so I threw my camera gear in the car and drove to Taynton with the idea that'd I'd visit the medieval parish church (I'm a bit of a 'churchmouse' and enjoy exploring historic country churches).
Since I didn't know exactly where the church was, I parked at the edge of the village and started walking along the road, looking for a tower peering through the trees.
I was simply walking along the road, keeping my eyes peeled for signs of the church when I came upon this pretty thatched cottage, lit by the morning sun. What a wonderful accident!
---
Britain Express UK Image Shop
Our online shop offers canvas prints, framed prints, metal prints, acrylic prints, posters, iPhone cases, Galaxy cases, and greeting cards of UK scenes, specialising in historic sites and traditional locations around England, Scotland and Wales.
We've chosen Fine Art America to host our shop. FAA is the largest worldwide print-on-demand service and offers a wide variety of printed image products from 14 fulfilment centres in 5 different countries.
You can order in a wide variety of currencies (euros, Japenese yen, American, Canadian and Australian dollars), and products ship in 2-3 business days.