Thatched Cottage in Lockeridge, Wiltshire Prints
Beautiful photos of England, Scotland, and Wales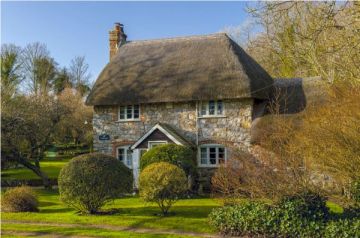 The Story Behind the Image - Thatched Cottage, Lockeridge, Wiltshire
My family and I were driving through the village of Lockeridge, Wiltshire, on our way home from a lovely holiday near Warminster. We came around a bend in the road and saw this pretty thatched cottage set back from the road.
I'm not sure if I actually shouted 'stop the car!', but it wouldn't surprise me if I did!
Thankfully, my wife is used to this sort of thing from me; she quickly found a layby to safely pull off the road. I grabbed my camera from the car boot and ran back down the road.
I took a dozen or so photos of this delightful little cottage, and on my way back to the car I noticed a few more thatched cottages, but none quite as beautiful as this.
---
Britain Express UK Image Shop
Our online shop offers canvas prints, framed prints, metal prints, acrylic prints, posters, iPhone cases, Galaxy cases, and greeting cards of UK scenes, specialising in historic sites and traditional locations around England, Scotland and Wales.
We've chosen Fine Art America to host our shop. FAA is the largest worldwide print-on-demand service and offers a wide variety of printed image products from 14 fulfilment centres in 5 different countries.
You can order in a wide variety of currencies (euros, Japenese yen, American, Canadian and Australian dollars), and products ship in 2-3 business days.