Queen Victoria and Victorian England - the young Queen
The generally uneventful reign of George's brother, William IV (1830-37), was followed by that of Queen Victoria (1837-1901). Only 18 when she came to the throne, Victoria oversaw England at the height of its overseas power. The British Empire was established in her reign, and it reached its greatest expanse under her. Things did not start off smoothly, however.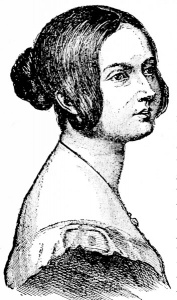 The Chartist movement began in 1839 with demands for electoral reform and universal male suffrage. The movement was taken over by radical reformers and was dealt with very harshly by the authorities. The Anti Corn Law League was another voice for social reform. They advocated total free trade, but it was not until 1846 that the Corn Laws were completely repealed.
The Great Exhibition
Victoria's consort, Prince Albert, was the main backer of the 1851 Great Exhibition. This was the first "world's fair", with exhibits from most of the world's nations. The exhibition was held in Hyde Park, and the showpiece was the Crystal Palace, a prefabricated steel and glass structure like a gigantic greenhouse, which housed the exhibits. The Crystal Palace was disassembled after the Exhibition and moved to Sydenham, in south London, where it burned down in 1936. (for more, see The Great Exhibition).
The Crimean War
Overseas, England became involved in the Crimean War (1854), which was notable only in that it provided evidence of military incompetence and the material for the poem "The Charge of the Light Brigade", by Alfred Tennyson. One positive that came out of the war was the establishment of more humane nursing practices under the influence of Florence Nightingale, the courageous "Lady with the Lamp".
The Indian Mutiny
A few years later (1857) saw the Indian Mutiny. India had been administered by the East India Company with government co-operation. The spark for the Mutiny was provided when the army introduced new rifle cartridges which were rumoured to have been greased with lard. Any Hindu who bit off the end of the cartridge, which was essential when loading a gun, was committing sacrilege. The army rebelled and massacred many British officers, administrators, and families. After the Mutiny was put down the administration of India was taken over by the government of Britain.
MORE Victorian Age:
Back: George III
Next: The Great Exhibition
Queen Victoria's Britain - places to see associated with Queen Victoria.
Attraction search