The Venerable Bede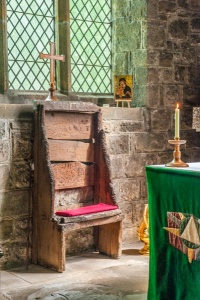 Most of what we know of the life of this prolific writer is gleaned from notes in his own writings. Bede entered the Monastery of St. Peter and St. Paul at Jarrow in Northumbria when he was 7 years old, in about 680 AD.
He was given into the care of the abbot by his relatives, perhaps because they were too poor to keep him. From that day he seldom left the monastery, and then only to pay brief visits to friends in the area.
Bede's life was one of prayer and study. He seems to have been a simple man, much loved by his fellows and his students. The prefix "Venerable" was added to his name sometime in the century after his death. Bede was regarded as a saint in the north of England, but his cult never spread to the south.
Bede's master work was his Ecclesiastical History of the English People, completed in 731. This history was commissioned by the Northumbrian king, and it seems clear that Bede had to phrase his writings so as to avoid offending his patron.
Despite this, Bede was given access to information from all over Britain, and even from the papal archives. His talent was one of gathering together fragments of myth, tales, and oral traditions, and weaving together a coherent history. So popular was Bede's Ecclesiastical History that Alfred the Great had it translated in Anglo-Saxon.
Bede did more than write one book; indeed his scope was prodigious. His writings encompassed a speculative history of the world from the Creation to his own times, commentaries on the Bible and Biblical characters, speculations on the nature of science, lives of saints, even a book of hymns. He was one of the first British writers to take up the style of chant we call Gregorian today.
Bede was also unique in that he carefully noted when he borrowed from the writings of others (a refreshing honesty in that age of unscrupulous copying). He is credited with almost single-handedly popularizing the use of "BC" and "AD" as terms of calendar reference.
The Venerable Bede died on May 25, 735, and was canonized by Pope Leo XIII in 1899. Bede's home at Jarrow was destroyed during the Dissolution of the Monasteries, though the ruins can be visited today.
Web Resources:
Medieval Sourcebook: Bede
- Text of Bede's Ecclesiastical History of the English People.
To See:
Bede's World
- The Museum of Early Medieval Northumbria at Jarrow.
Jarrow Monastery
Related:
Gildas
Attraction search