Medieval Gardens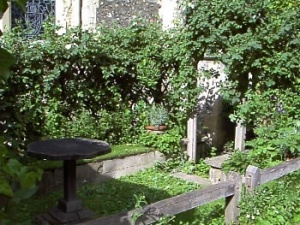 Monasteries had both kitchen gardens and herb gardens to provide the practicalities of food and medicine. [For a look at the role of herbs in monastic life, read one of the excellent Brother Cadfael mysteries by Ellis Peters]. Also, beds were set aside to grow flowers for the church altar.
The monastery cloister provided an open green space surrounded by covered walks, generally with a well, or fountain at the centre. These green spaces sometimes served as the burial place for the monks also.
Medieval Castle Gardens at a glance
Style: small, enclosed, often with turf seats and decorative mounds.
Moving from monastic to secular gardens - castles sometimes made room for small courtyard gardens, with paths through raised flower beds. Other common features of medieval castle gardens include turf seats and high mounds, or mounts, which provided a view over the castle walls or over some part of the garden itself. These mounts could have decorative pavilions on top.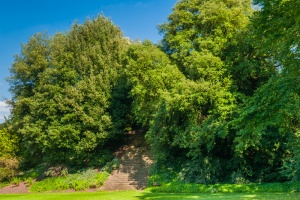 Good examples of medieval mounts can be found at New College, Oxford (well covered in trees and bushes now), and Little Moreton Hall, Cheshire.
As castles gave way to fortified manor houses in the later medieval period, the garden became a simple green space surrounded by hedges or fences. Games such as bowls or tennis took place on the lawn.
Related:
English Gardens
Landscape Gardens
Attraction search