Tales of the Mabinogion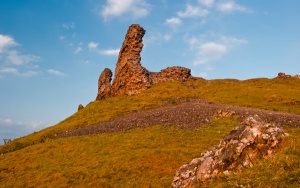 Branwen and the Invasion of Ireland
Bran, the King of Britain had a sister named Branwen, said to be the fairest lady in the world. Bran desired an alliance between Britain and Ireland, so he arranged a marriage between Branwen and the King of that country. The wedding, held at Aberffraw (in Anglesey), turned into a disaster when Branwen's brother insulted the Irish.
The Irish held their peace, but when they had returned to Ireland, took revenge upon Branwen. The new bride managed to send a plea for help to her brother with the aid of a starling. The British took arms and invaded Ireland, and in the battle that followed almost all the warriors on both sides were killed. Branwen lamented in her grief, "Two islands have been destroyed because of me", and with that, she died.
A note: Bran's castle is reputed to be at Harlech (not the much later Harlech Castle), or at Dinas Bran Castle, near Llangollen.
Manawyddan and the Mouse
Manawyddan was a prince of North Pembrokeshire whose lands fell under a mysterious enchantment which rendered the lands desolate. The prince discovered that a band of mice were eating his wheat, so he lay in wait for them one night. He managed to catch only one of the mice, which he decided to hang as a thief.
Before he could carry out the sentence upon the mouse, strangers began to come to the house, offering to buy the mouse from him. Finally, a man in the guise of a bishop asked him to name his own price for the mouse. Manawyddan, no fool, declared that the only price he would accept was the end of the spell upon his land. The "bishop" agreed and revealed that he was, in fact, a rival prince named Llwyd.
Llwyd confessed that he had cast the spell when one of his friends was insulted by friends of Manawyddan. The mice who had been eating the crops were lords and ladies of Llwyd's court, and the mouse that Manawyddan had caught was none other than Llwyd's own wife.
More tales from the Mabinogion:
Olwen of the White Track
Pwyll and Rhiannon
Gwydion and Llew
Maxen Wledig, Emperor of Rome
Attraction search