Kelmscott Manor Gardens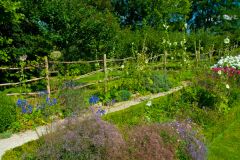 When
William Morris
first viewed
Kelmscott
, it was the garden as much as the house itself that convinced him to move here. He considered it an ideal garden, 'fenced from the outside world', and indeed, it is easy to appreciate the appeal, seeing it today.
Morris made few changes to it over the 25 years of his residency at Kelmscott, but by the time the house passed to the ownership of the Society of Antiquarians the garden was a muddle. In the 1990s the SOA began a major restoration of the gardens, bringing them to a state which Morris himself would have recognized.

The old framework of garden paths was reinstated, and beds were planted with a variety of common cottage garden plants that were popular in the late Victorian period. Many of the plants chosen are those that Morris frequently used in his designs, and the pattern of plantings reflect traditional Morris designs, with twining stems of large flowers supplemented with fruits and foliage meant to emphasize form and complementary shapes.

The Society of Antiquaries used a variety of sources to recreate the gardens as Morris would have known them. Among the sources used are OS maps from 1870, drawings by EH New and Country Life photos from 1921. Morris's own letters also make mention of specific varieties of plants in the gardens, and May Morris's writings further details.

One source for the restoration of the Front Garden was a frontispiece design by CM Gere for the 1892 publication of 'News from Nowhere'.

The yew hedge separating the Front Garden from the Lawn Garden contains a topiary dragon. This dragon was clipped by Morris himself and acted as a model for the 'Fafnir' dragon in his Icelandic poetry.

At the northeast corner of the grounds is the Lawn Garden, which was originally a kitchen garden, though it has now been planted with herbs and flowering borders. To one side is a pergola of coppiced chestnut, echoing Morris's trellis patterns and medieval arbour designs.

The Mulberry Garden has the original mulberry tree at its centre, with a lashed wooden fence of local ash and hazel. An unusual surprise is Persian Tulip (Tulipa sylvestris), which was profuse in the garden that Morris knew.

The small orchard area has been replanted with plum and apple varities that were common in Victorian orchards. Beyond the garden walls is an area of meadow which is allowed to grow wild, creating a 'flowery mead' of wildflowers, with mowed paths to permit visitors to enjoy the natural beauty.
Attraction search