Snowdrops in an English Country Churchyard
Exploring England, Scotland, and Wales
I keep a mental list of places to go when the weather is good - historic or scenic sites within a short drive of our home in the beautiful Cotswolds. One of those places is Colesbourne Park, a country estate in the Churn Valley, west of Yanworth.
Colesboune Park
Colesbourne is widely considered the best place in Britain to view snowdrops, with over 350 cultivars creating a lush display in early spring. It has been called 'England's greatest snowdrop garden'.
I have lived within a 15-minute drive of Colesbourne for over a decade and never knew it existed until this year, so I was determined to explore the estate and photograph the snowdrops.
---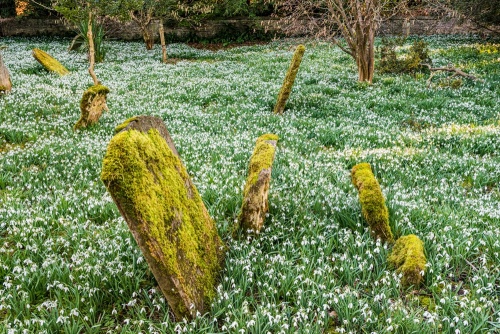 ---
Unfortunately, Colesbourne is only open to the public for five 'snowdrop weekends' each year, running from late January through February. This year, every weekend was beset with miserable weather, from heavy rain to high winds. A series of storms hit, seemingly timing their arrival to coincide with the weekend.
It was pretty clear that the weather gods were not going to cooperate and I resigned myself to waiting until next year to photograph the snowdrops. That is, until a friend and fellow photographer tipped me off to a glorious display of snowdrops that were within a 10-minute drive, free to visit (Colesbourne is not), and available to see any day of the week.
Book your Large Group Holiday Cottage in Cornwall Today
Perfect for family reunions!
---
Great Barrington Church
I waited, my camera bag packed and ready to go, until the dreadful spring weather finally broke and we had a few hours of sunshine, and drove to Great Barrington. I parked near the village cross and walked to the church, tucked down a lane next to the historic house of Barrington Park, home of the Bray and later, the Talbot families.
St Mary's Church is full of memorials to generations of Brays and Talbots, and is well worth exploring, especially to see the memorial of Mary, Countess Talbot (d 1787) sculpted by Joseph Nollekens, and the 1620 effigy of Captain Edmond Bray.
---
---
It was not historic memorials that brought me to Great Barrington, however, but snowdrops.
When you approach the church, you see a very small grassed area in front of the northern facade, with a few gravestones and nary a snowdrop. If you follow that path that leads around the east end of the church, however, you find yourself in a sea of dancing white snowdrops. The pretty little white blossoms envelop the churchyard, drowning the gravestones in waves of white and green.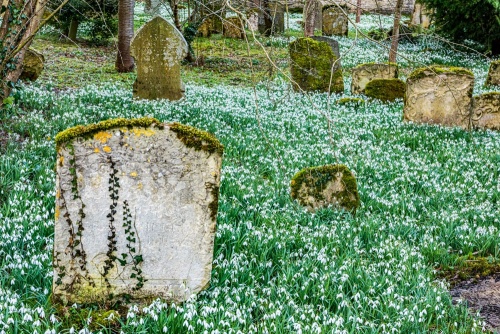 ---
---
The churchyard is relatively small, as is the church, but the profusion of snowdrops makes it seem much larger. I did have to take great care not to accidentally step on any of the flowers as I made my way through the churchyard. I felt like my head was on a swivel, trying to capture the views from every angle.
I'm sure that Great Barrington Church is not unique in boasting such a wonderful display of snowdrops. It just reminds me that you don't have to always find a 'big name' attraction in order to see something wonderful. I hope these photos will give some sense of just how beautiful an English country church can be!
Technical stuff:
Most of these photos were taken with my trusty Nikon D810 and a 24-70mm f2.8 lens, but one was taken with my backup camera, a Panasonic FZ-1000.
---
---
I gave some thought to the vexing question of how to caption these photos. I mean, how many times can you use the caption, 'Gravestones surrounded by snowdrops'? Since so many photos essentially show exactly that, I've tried to avoid redundant captions entirely!
Best of Britain Express Art Prints