Anne Boleyn Places to Visit in England
Exploring England, Scotland, and Wales
Almost 500 years after her execution in 1536, Queen Anne Boleyn's short and ultimately tragic life continues to exert a powerful hold on the public's imagination and interest in King Henry VIII's second wife has never been stronger. She has been the subject of films, TV series, historical novels, and countless biographies.
---
One of the things that keeps interest in Anne Boleyn so high is that it is possible to visit so many places associated with her life -- and death. Here's our look at historical attractions with a close link to Anne Boleyn across England. We've narrowed this list to include only those places that are regularly open to the public.
Ask most people to name the first place they think of when you say the name 'Anne Boleyn' and they'll mention Hever Castle in Kent. Hever Castle was Anne's childhood home, but her birthplace was Blickling Hall in Norfolk.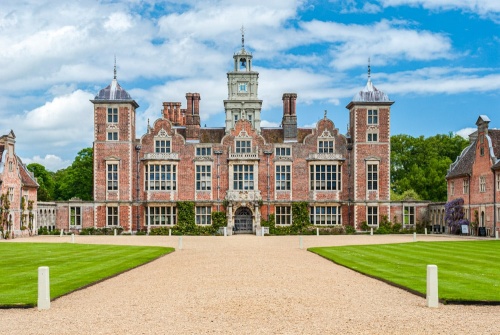 ---
At least, that's one theory.
In truth, no one knows exactly where, or when, Anne Boleyn was born. Some historians think she was born at Blickling Hall in 1501, while others believe she was born six years later in 1507 at Hever Castle.
The house we see today is a sumptuous Jacobean manor built on the site of the earlier Tudor house where Anne Boleyn was -- or wasn't -- born in 1501. The best surviving feature of the Tudor building is the dry moat that surrounds the current house.
Blickling Hall is now owned by the National Trust.
---
We mentioned Hever Castle earlier. It is, without doubt, the place most strongly associated with Anne Boleyn. This picturesque, moated manor house was begun in 1270, but only the gatehouse remains from that 13th-century building. In 1462 Anne's ancestor Geoffrey Bullen (Boleyn) acquired Hever Castle and Anne would spend much of her childhood here.
Henry VIII is known to have visited Hever during his courtship of Anne, and after Anne's execution for treason, he gave the house to Anne of Cleves, his fourth wife.
Highlights include Anne Boleyn's Bedchamber (though whether it was, in fact, Anne's actual bedchamber is unknown), Henry VIII's Bedchamber, a beautifully panelled room centred around a four-poster bed, and two illuminated Books of Hours owned and annotated by Anne.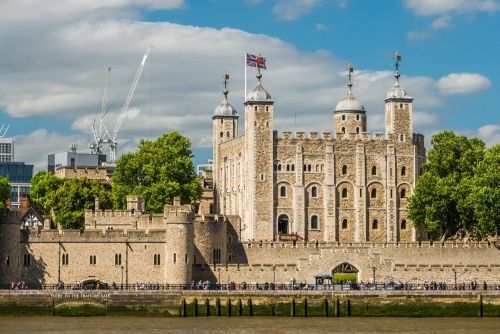 ---
Anne was imprisoned at the Tower after she was arrested and charged with adultery which, since her husband Henry VIII was the head of state, was interpreted as treason. After she was found guilty (a foregone conclusion), she was executed on Tower Green and buried at the altar of St Peter ad Vincula Chapel.
Or was she?
Persistent rumours suggest that Anne's heart was buried at St Mary's Church, Erwaton, Suffolk, and some historians suggest that even her body was spirited away from the Tower and buried elsewhere.
Inside the Tower grounds is Queen's House, so named because, during the Victorian period, the myth sprang up that Anne Boleyn had spent the last days of her life here. In fact, Anne spent the final 18 days of her life incarcerated in the Queen's Lodgings, which have since been pulled down.
---
St James Palace began as a hospital run by Augustinian monks before becoming a leper hospital dedicated to St James the Less. In 1532, Henry VIII bought the hospital and built a hunting lodge surrounded by 300 acres of woodland as a hunting reserve. The hunting ground lives on as St James Park.
Henry built a suite of state apartments at St James Palace and later added the Chapel Royal for his fourth wife, Anne of Cleves. A pair of fireplaces in the state apartments are decorated with the initials H and A, for Henry and Anne.
But which Anne?
The initials almost certainly refer to Anne Boleyn, for Henry intended the palace to serve as a residence for his second queen. Sadly, she fell from favour and was executed long before work on the palace was complete.
The palace does not welcome visitors, but you can easily view the exterior and visitors are welcome to attend services in the Chapel Royal. Queen Mary I's heart is buried in the Chapel (the rest of her body lies in Westminster Abbey).

---
Henry VIII spent much of his childhood at Eltham Palace, whose history goes back to the 11th century. As king, he lavished money on the Palace and grounds, adding a bowling green, archery butts, and pleasure gardens. Within the gardens, he planted arbours sheltered by high hedges to serve as trysting places for romantic interludes.
The medieval and Tudor palace was transformed in the 1930s when Stephen and Virginia Courtauld leased the estate and remodelled the house in sumptuous Art Deco style.
Anne Boleyn visited Eltham twice in 1532, the second time on their way back from the Field of the Cloth of Gold meeting with Francis I of France. At that famous meeting, Francis acknowledged Anne as Henry's consort and vowed to support Henry's case for a divorce from Catherine of Aragon with the Pope.
After Anne gave birth to the future Elizabeth I, Eltham Palace served as a royal nursery. Anne and her infant daughter returned to Eltham at Easter in 1534 and again in July of that year. It was during her Easter visit to Eltham that Anne quarrelled with Mary Tudor, Henry's eldest daughter. Anne attempted to mend bridges with Mary, who rebuffed her in no uncertain terms, leaving Anne furious.
The king and queen visited Eltham again at Christmas in 1535. By this time Anne knew that she was pregnant again, but the fallout from the visit was far from happy. Just a few months later, accusations were levelled at Anne that during this final stay at Eltham she had sex with her brother, and this charge was the most serious of those that resulted in her trial and eventual execution.
Eltham Palace is now in the care of English Heritage.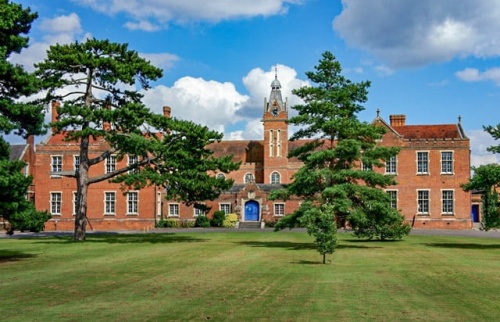 ---
I hesitated whether to include Carew Manor or not. This attractive Tudor manor in Beddington, south-east London, is now a school, and as such, is rarely open to visitors. However, a public footpath passes through the grounds, directly in front of the house, so you can certainly enjoy and appreciate the beautiful Tudor architecture and soak up the ambience of history.
Carew Manor was home to the powerful Carew family for over 500 years, from 1351-1859. Nicholas Carew was a favourite of Henry VIII and was known in the Tudor court for his prowess at jousting, one of Henry's favourite sporting activities.
He was Henry's friend and Anne Boleyn's cousin, a fact that made Carew Manor a perfect meeting place for the couple in 1528, when Anne was at Hever and Henry was at court in London. On 10 November Henry rode to Carew Manor for four days of what was recorded as 'business and pleasure'. Henry was no doubt grateful for Nicholas Carew's help in arranging a trysting place for meeting Anne, but his gratitude did not last.
Unfortunately, Carew made an enemy of Henry VIII's chief minister, Thomas Cromwell, who decided that Carew had become too popular, and had him arrested for treason and executed in 1538. Nicholas's son Francis wisely kept out of politics and instead, created one of the most important gardens in Tudor England at Carew Manor.
Jane Seymour stayed at Carew Manor in 1536, and historians suggest that Henry VIII visited her secretly. In later years Sir Walter Raleigh strolled the grounds with Elizabeth I, and a persistent rumour says that Raleigh's embalmed head was buried here after his execution.
Carew Manor lies at the eastern end of Beddington Park in Wallington, just off the Wandle Trail long-distance footpath.
Book your Large Group Holiday Cottage in Cornwall Today
Perfect for family reunions!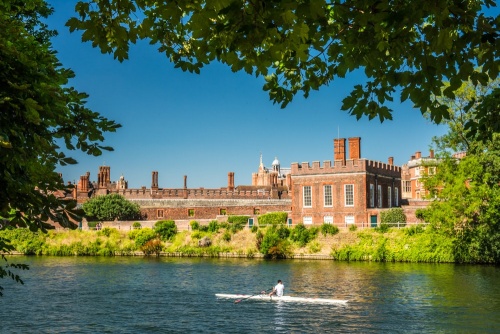 ---
Perhaps the finest Tudor residence in England, Hampton Court Palace was built by Cardinal Thomas Wolsey, Henry VIII's chief advisor. Henry VIII cast a covetous eye at his Cardinal's opulent residence and Wolsey found it expedient to offer it to the monarch.
Henry VIII lavished money on Hampton Court Palace and added luxurious quarters for Anne Boleyn as well as private a suite of private chambers for himself, council chambers, a great hall, and royal kitchens.
Sadly for Anne Boleyn, she fell from favour before her new quarters were finished, and the first queen to take up residence there was Jane Seymour, Henry's third wife.
Hampton Court Palace is a member of Historic Royal Palaces, the umbrella group of royal residences that includes Kensington Palace and the Tower of London, amongst others.
---
The Pashley Manor we see today is an attractive timber-framed Tudor manor house built in 1550 and extended in 1720. The house stands within a superb, award-winning garden in country house style.
The history of Pashley Manor goes back to 1292 when Sir Edmund de Passele built a moated manor here. In 1453 the estate was purchased by the Bullen family of Norfolk (Bullen being an alternate spelling of Boleyn). Anne Boleyn is known to have spent portions of her childhood at Pashley Manor, which her family used as a hunting lodge.
The Boleyns were forced to sell Pashley Manor when Anne was executed, and it was purchased by Sir Thomas May. The May family extended the house and enlarged the gardens.
Pashley Manor is said to be haunted by two ghosts, one of them the spectre of Anne Boleyn herself.
The house is not usually open to the public but the surrounding gardens are regularly open. We've visited them twice and can highly recommend a trip!
---
Hatfield House is one of the great stately homes of England. There are really two houses; a Jacobean mansion built in 1608 by Robert Cecil, and an earlier royal palace begun in 1485 by Cardinal Morton, Bishop of Ely.
When Henry VIII suppressed the monasteries he seized the Old Palace at Hatfield and transformed it into a royal residence where his children could be raised. Hatfield is most strongly linked to Elizabeth I, Anne and Henry's daughter, who lived at Hatfield for much of her childhood and was under virtual house arrest here when she received the news that her sister, Mary I, had died and she was now Queen of England.
Anne Boleyn is known to have visited Hatfield during Elizabeth's stay. It could not have been an easy stay, for she would have encountered Mary, Henry's daughter by Catherine of Aragon, who had been sent to Hatfield to wait on her younger sister, as punishment for refusing to accept her mother's divorce or the legitimacy for her stepmother and stepsister.
Hatfield House, including the Old Palace, is regularly open to the public and when we visited it was a member of the Historic Houses Association.
---
The Vyne is a stunning Tudor house, begun in 1500 by William, Lord Sandys, who would become Henry VIII's Lord Chamberlain. Henry VIII is known to have visited on at least three occasions.
One of the highlights at The Vyne is the Oak Gallery, one of the earliest long galleries in England. The Oak Gallery is lined with magnificent linenfold panelling decorated with heraldic symbols including the Tudor rose and the pomegranate of Henry VIII's first wife, Catherine of Aragon.
It made sense for William Sandys to ingratiate himself with his royal master, but the pomegranate carvings must have caused him some difficult moments when Henry visited The Vyne with his second wife, Anne Boleyn!
Another famous woman to visit The Vyne was novelist Jane Austen, who came here several times. Her brother James Austen was the vicar of nearby Sherborne St John Church. He later married Emma Smith, the niece of the Chute family who owned The Vyne
The Vyne is in the care of the National Trust.

---
Sudeley Castle, near Winchcombe, is steeped in royal connections. The manor of Sudeley once belonged to King Ethelred the Unready, but Ethelred was only the first in a long series of monarchs to visit Sudeley.
Descendants of Goda, sister of Edward the Confessor, owned Sudeley until 1368 when it passed to William Boteler. A later Boteler, Thomas, 1st Baron Sudeley, transformed the castle into a comfortable country house. Edward IV forced Boteler to sell the estate to him in 1461.
Henry VII neglected Sudeley in favour of other royal residences, but he is known to have visited here with Anne Boleyn in 1532.
Sudeley Castle is best known as the final resting place of Henry VIII's sixth and final wife Catherine Parr, whose memorial stands in the castle chapel. Anne Boleyn's daughter Elizabeth lived at Sudeley for a time after her father's death, under her stepmother's care.
As of this writing, Sudeley Castle is a member of the Historic Houses Association.
---
Penshurst is one of the great stately homes of England, with its roots in the 14th century. At the heart of this vast, rambling house is the great hall built around 1341 by Sir John de Pultenay, a wealthy merchant and four times Lord Mayor of London.
It is best known as the home of Sir Philip Sidney, the Elizabethan soldier and poet. The house was later owned by relatives of another poet, Percy Bysshe Shelley.
Henry VIII stayed at Penshurst during his courtship of Anne Boleyn, then a resident at nearby Hever Castle.
Penshurst Place is a member of the Historic Houses Association.
---
On 1st June 1533, Anne Boleyn was crowned Queen of England in a ceremony at Westminster Abbey. The coronation banquet was held later that same day at nearby Westminster Hall, followed by two days of celebrations. Both historic sites are open to visitors.
The abbey was begun by Edward the Confessor in 1060, though there has been a church on this site since AD 604. The first royal coronation that we know of was that of William the Conqueror, who was crowned at Westminster Abbey on Christmas Day, 1066. It is possible, though not certain, that William's predecessor, King Harold, was also crowned at the Abbey.
Curiously, only two of Henry's six wives received an official coronation, the other being Catherine of Aragon.
Westminster Abbey is regularly open to the public. It is one of the busiest tourist attractions in London and there are often long lines of people waiting to get in, so I strongly advise visiting early or late in the day when the crowds will be less.
---
Hellens is a beautiful Jacobean House of red brick built around a much earlier medieval house. It has been in the hands of the same family for over 700 years.
A tragic tale tells of Hetty Walwyn, daughter of the house owner, who eloped with a local farm worker, repented, and returned to her family. Her parents, instead of welcoming her home, locked her in her bedchamber for the last 30 years of her life. You can see the bedchamber, where Hetty Walwyn scratched a poignant verse of poetry on the window glass. Her ghost is said to haunt the house.
One of the interior highlights at Hellens is a stunning Jacobean staircase decorated with a frieze of mythical beats. In a display case on the stair is a comb belonging to Anne Boleyn, given by a son of Anne's sister Mary, who was, for a time, Henry VIII's mistress.
Hellens Manor is regularly open to the public.
---
This stunning medieval church is known as the 'Cathedral of the Cotswolds' for its exceptional size and architectural grandeur. It is, without doubt, one of the finest parish churches in England.
The church we see today was begun in 1117 by Henry I, but rebuilt in spectacular Perpendicular Gothic style around 1520.
In a small recess at the east end of the south aisle is a gilt silver goblet in a glass display case. This is 'The Anne Boleyn Cup', so named because it was given by Queen Anne Boleyn to Dr Richard Masters, a physician, in gratitude for his care of Anne's daughter, the future Elizabeth I. It was given by Dr Masters to the church in 1561.
St John's Church is open daily to the public.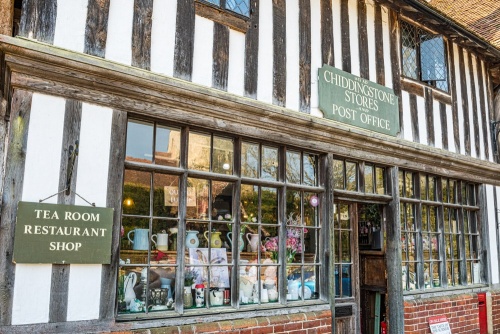 ---
Chiddingstone is like a time capsule, a picture-perfect English village. To preserve its heritage, the National Trust purchased The entire village, barring only the parish church and castle.
Chiddingstone, located just two miles from Anne Boleyn's childhood home of Hever Castle, abounds on historic buildings. Among them is The Post Office, which dates to at least 1453 and was once owned by Thomas Boleyn, Anne's father.
---
Little now remains of this once-powerful abbey, founded in the 7th century and once the second-largest landowner in Berkshire (the county boundaries have since moved and Abingdon now finds itself squarely in Oxfordshire).
Abingdon was favoured by many monarchs, and the list of kings and queens who visited the abbey is a long one; William the Conqueror, Henry I, Henry II, Queen Matilda, Edward I, Edward II, Edward III, and Henry VIII are known to have visited the abbey at least once. Henry and Anne stayed at the abbey in 1535 as part of an extended royal progress.
In 1536 the High Steward of Abingdon Abbey was Henry Norrys (Norris), a diplomat, administrator, and member of Henry VIII's privy council. The high-flying Norris was one of those accused, tried, and executed for adultery with Anne Boleyn, though it seems much more likely that his only real 'crime' as to make an enemy of Thomas Cromwell, Henry's powerful advisor.
The former abbey grounds are open to the public.
---
This magnificent 12th-century castle is built on an island in a natural lake and reached only by a stone causeway, making for one of the finest settings of any castle in England. From 1278 Leeds Castle was a Crown possession and passed through the hands of no less than six queens of England.
In 1519 Henry VIII rebuilt Leeds Castle for his first wife, Katherine of Aragon, and stayed here in 1520 on his way to the famous Field of the Cloth of Gold meeting with Francis I of France. One of Henry's additions to the castle was the Maidens' Tower, built to house Katherine of Aragon's maids of honour. Among those maids of honour was Anne Boleyn.
In the Heraldry Room you can see a jewel casket once owned by Anne.
Leeds Castle is regularly open to the public.
---
The stunning chapel of King's College is one of the finest examples of Perpendicular Gothic in the world. The chapel was begun in 1441 by Henry VI and was intended to form one side of a court, but the other sides were never built. Henry VII was responsible for the remarkable fan-vaulted ceiling, one of the architectural highlights of Britain.
Henry VIII gave the richly carved screen that separates the choir and the antechapel. The choir screen is carved with Henry's initials twined around those of Anne Boleyn.
Another highlight at King's College Chapel is its collection of early Renaissance stained glass. One window depicts Henry VIII in the guise of King Solomon, receiving a gift from the queen of Sheba. Tradition suggests that Anne Boleyn was the model for the Queen of Sheba (though an alternate tradition suggests that it was, in fact, Catherine Howard, Henry's fifth wife).
King's College Chapel is regularly open to the public.
---
Reading was one of the great monasteries of medieval England and enjoyed royal patronage. Indeed, it was founded by a king, in this case Henry I, in 1121. When Henry died in France in 1135 his body -- minus a few organs -- was shipped back to England and buried before the high altar.
Henry VIII continued the heritage of royal interest in Reading Abbey. In 1520 he appointed his supporter Hugh Faringdon as Abbot of Reading, and the following year he stayed at the abbey as Hugh's guest. He returned again in 1535 as part of a royal progress, with Anne Boleyn at his side.
The royal couple would have dined with Abbot Hugh, a dinner made poignant in retrospect by the fact that both Anne and Hugh would be executed at Henry's orders within a few years. Anne was beheaded in 1536 and Abbot Hugh was hanged, drawn, and quartered at the Abbey gatehouse in November 1539, on dubious charges of treason.
Reading Abbey is open to the public, though sometimes the interior of the ruined abbey church is closed.

---
In 1535 Henry VIII and Anne Boleyn stayed at Thornbury Castle as part of their royal progress of that summer. Their stay here has been commonly interpreted as a delayed honeymoon, some two years after their marriage, and Thornbury has gained a reputation as the ideal place for a romantic getaway.
The royal couple had planned to stay in Bristol, but an outbreak of the plague in that city made a visit too dangerous so they stayed at Thornbury for 10 days and received dignitaries from Bristol.
The castle, now a luxury hotel, has preserved the bedchamber where Henry and Anne stayed as part of the Henry VIII Suite, so you can lay your head to rest where the royal couple slept almost 500 years ago
As a hotel, you could say that Thornbury Castle is regularly open, so long as you pay for a room, but as far as we can determine, the public is also permitted to explore the historic gardens and grounds freely.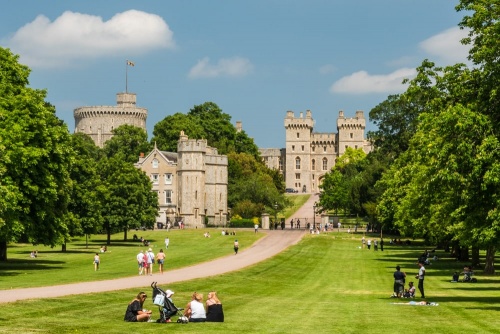 ---
Last, but certainly not least, we come to Windsor Castle. Anne Boleyn visited Windsor Castle numerous times and, if you believe the stories, her ghost lingers in the grounds.
On 1 September 1532, Anne was named Marquess of Pembroke in a ceremony at Windsor Castle. This may have been Henry VIII's way of raising her social status, or simply a measure of his affection. In either case, it did her finances no harm, for she received lands worth an estimated £1,000 per year, a huge sum for the time.
Anne and Henry stayed at Windsor again in 1533 as Anne's advancing pregnancy made the usual royal progress inadvisable.
Anne's ghost is said to haunt Windsor Castle, and visitors have reported seeing her spectre at a bay window overlooking the central courtyard of the Dean's Cloister in the castle grounds. Not surprisingly the window has been dubbed Anne Boleyn's window.
Henry VIII lies buried in St George's Chapel beside his third wife, Jane Seymour
Windsor Castle is regularly open to visitors.

---
We've had to omit several places from this list because they aren't regularly open to the public or, at the very least, easily accessible for external viewing. And, of course, there are other places where Anne may have stayed briefly but didn't have a close connection to.
The photo of Carew Manor is (c) Peter Trimming and is republished with gratitude under a Creative Commons license.
Best of Britain Express Art Prints